RISK 2019 – PAM: The critical missing piece in your security strategy – BeyondTrust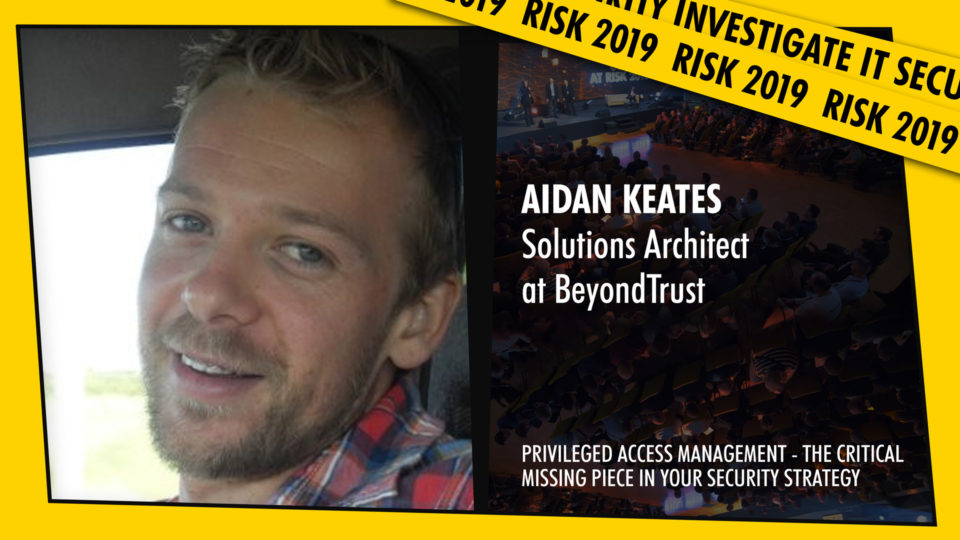 At RISK 2019, BeyondTrust's Solutions Architect Aidan Keates will present on the main stage on the topic of "Privileged Access Management (PAM): The critical missing piece in your security strategy" on the opening day of the event at 14:30 CET, as well as host a demo session in the Red Workshop Room at 11:30 CET, titled "Password Safe – Manage and monitor privileged accounts".
In short, the topics discussed at the presentation will include the risk factors at play, what are privileged access management solutions, why they are important and why a company should choose BeyondTrust to secure their operations.
About the presenter
South African born, Zimbabwean raised with 18 years of experience across 3 continents. Started my career in disaster recovery and business continuity industry for the financial sector before switching to support function of security patching and end point security. The last 8 years have been spent mastering the strategy, design and security of a broad scope of IT infrastructure services with the focus on system, network and data security. A wealth of experience in customer pre and post sales engagement from technical to C-level executives as well as working with and leading cross-functional groups of people with diverse IT backgrounds.

Certifications; OSCP, ECSA, CISSP, CEH, Security+, Rapid7 Nexpose, Metasploit Pro Specialist, CCNA, VCP, NetApp, Microsoft, Bluecoat
Just another reason to attend RISK conference, the largest specialized IT security event in the Adriatic region, taking place on March 20th and 21st 2019 in Lasko, Slovenia. Over 600 specialists will attend 60 presentations, 30 workshops and 30 technical demonstrations on two floors – join them by registering at www.risk-conference.com.