Real security is extending their presence with a NDR market leader ExtraHop across the Central Eastern Europe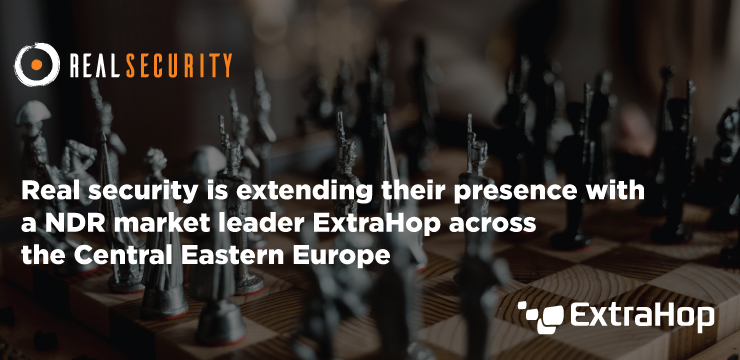 Real security, a Slovenian based Value Added distributor enters Poland, Czech Republic and Bulgaria by joining forces with ExtraHop, a market leader on Network Detection & Response field!
REAL security will help ExtraHop channel partners to profitably deliver best-of-breed security and IT performance solutions and services to enterprise customers in Bulgaria, Czech Republic and Poland, like he is already performing in Slovenia, Croatia, Bosnia and Herzegovina, Serbia, Kosovo, Montenegro, Albania, North Macedonia from year 2020.

Only ExtraHop knows the network from the inside, out. For more than a decade, our partners have deployed the ExtraHop Performance platform to deliver comprehensive visibility and rapid answers for enterprise IT operations teams.
In the face of advanced persistent threats, hybridization, and increasing compliance requirements, enterprises are looking for ways to modernize their security operations along with their infrastructure. With ExtraHop Reveal(x), channel partners are empowered to deliver the only enterprise-class Network Traffic Analysis solution for the modern SOC so security teams have the threat intelligence and response automation they need to act with confidence and speed.

"We believe strong partnerships are key to delivering the secure, high performance enterprises our customers and yours deserve." says Matic Knuplež, Regional Director at Real security.

Reach out to us, to rise above the noise and become an ExtraHop partner.


About REAL security
REAL security d.o.o. is a value added distributing and engineering company that specializes in information security. Focusing on the needs of business users, it offers comprehensive, reliable and proven solutions. The company's experts provide advanced consulting, planning, deployment and maintenance services for complex computer networks and sophisticated software solutions. For more information, please visit www.real-sec.com.

About ExtraHop
ExtraHop provides cloud-native network detection and response for the hybrid enterprise. Our breakthrough approach analyzes all network interactions and applies cloud-scale machine learning for complete visibility, real-time detection, and intelligent response. With this approach, we help the world's leading enterprises rise above the noise of alerts, organizational silos, and runaway technology. For more information, please visit www.extrahop.com.

Whether you're investigating attacks, ensuring the availability of critical applications, or securing your investment in cloud, ExtraHop helps you detect threats up to 95 percent faster and respond 60 percent more efficiently.