Flare-On 7 Challenge Solutions
We are thrilled to announce the conclusion of the seventh annual Flare-On challenge. This year proved to be the most difficult challenge we've produced, with the lowest rate of finishers. This year's winners are truly the elite of the elite! Lucky for them, all 260 winners will receive this cyberpunk metal key.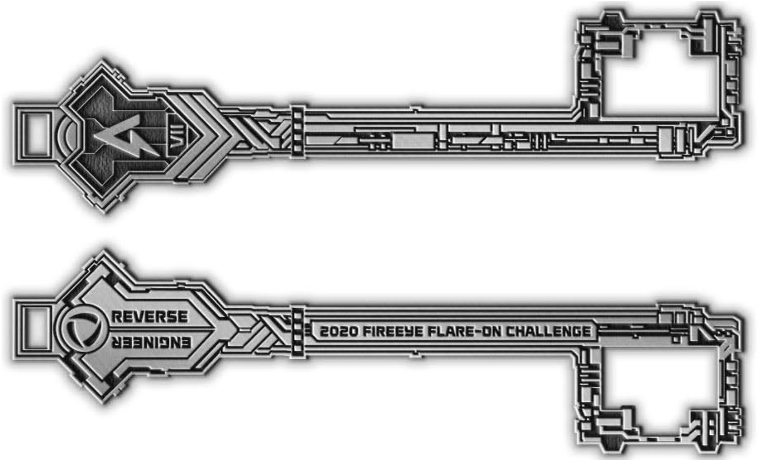 We would like to thank the challenge authors individually for their great puzzles and solutions:
fidler – Nick Harbour (@nickharbour)
garbage – Jon Erickson
Wednesday – Blaine Stancill (@MalwareMechanic)
report – Moritz Raabe (@m_r_tz)
TKApp – Moritz Raabe (@m_r_tz)
CodeIt – Mike Hunhoff (@mehunhoff)
re_crowd – Chris Gardner, Moritz Raabe, Blaine Stancill
Aardvark – Jacob Thompson
crackinstaller – Paul Tarter (@Hefrpidge)
break – Chris Gardner
Rabbit Hole – Sandor Nemes (@sandornemes)
This year's Flare-On challenge was the first to feature a live public scoreboard, so players could track their progress and the progress of previous Flare-On challenge champions. Despite this increased data at your fingertips, we are still going to bring you even more stats. As of 11:00am ET, participation was near record setting levels at 5,648 players registered. 3,574 of those players finished at least one challenge.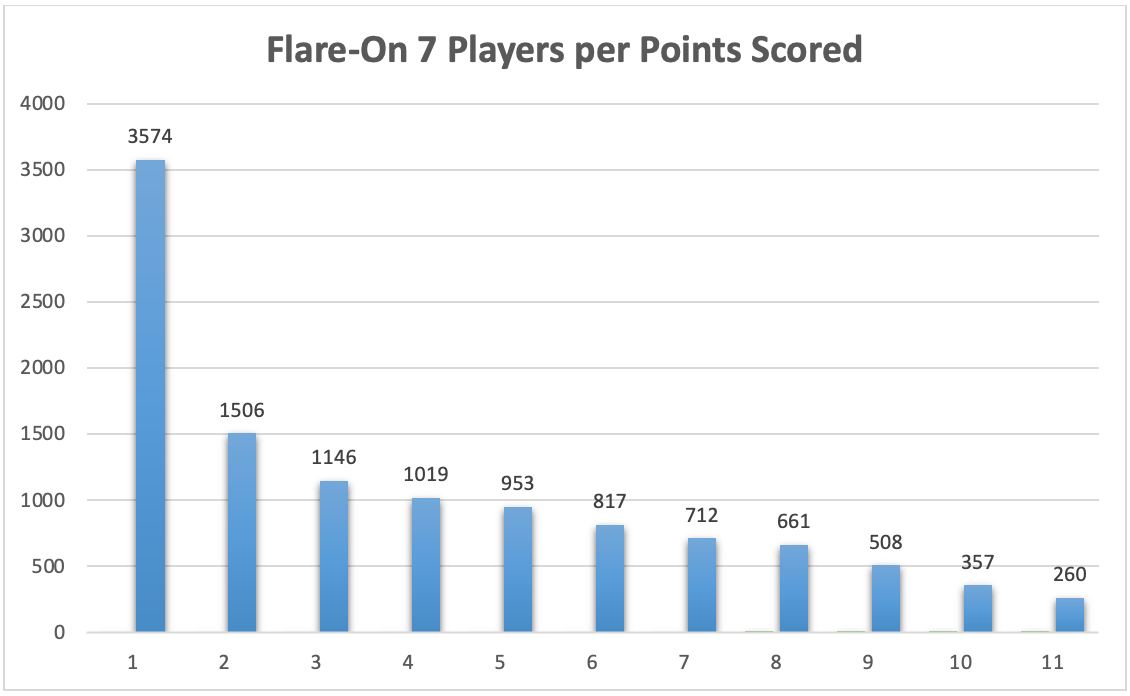 The U.S. reclaimed the top spot for total finishers with 22. Singapore was once again in second place, but in uncontested first place per capita, with one Flare-On finisher for every 296,000 living persons in Singapore. This is the first year we have included a per capita finishers by country chart, and we did it to highlight just what a remarkable concentration of talent exists in some corners of the world. Consistent top finisher Russia took third place, and a growing player base in Germany and Israel came into full bloom this year, with those countries edging out other frequent top five countries such as China, India and Vietnam.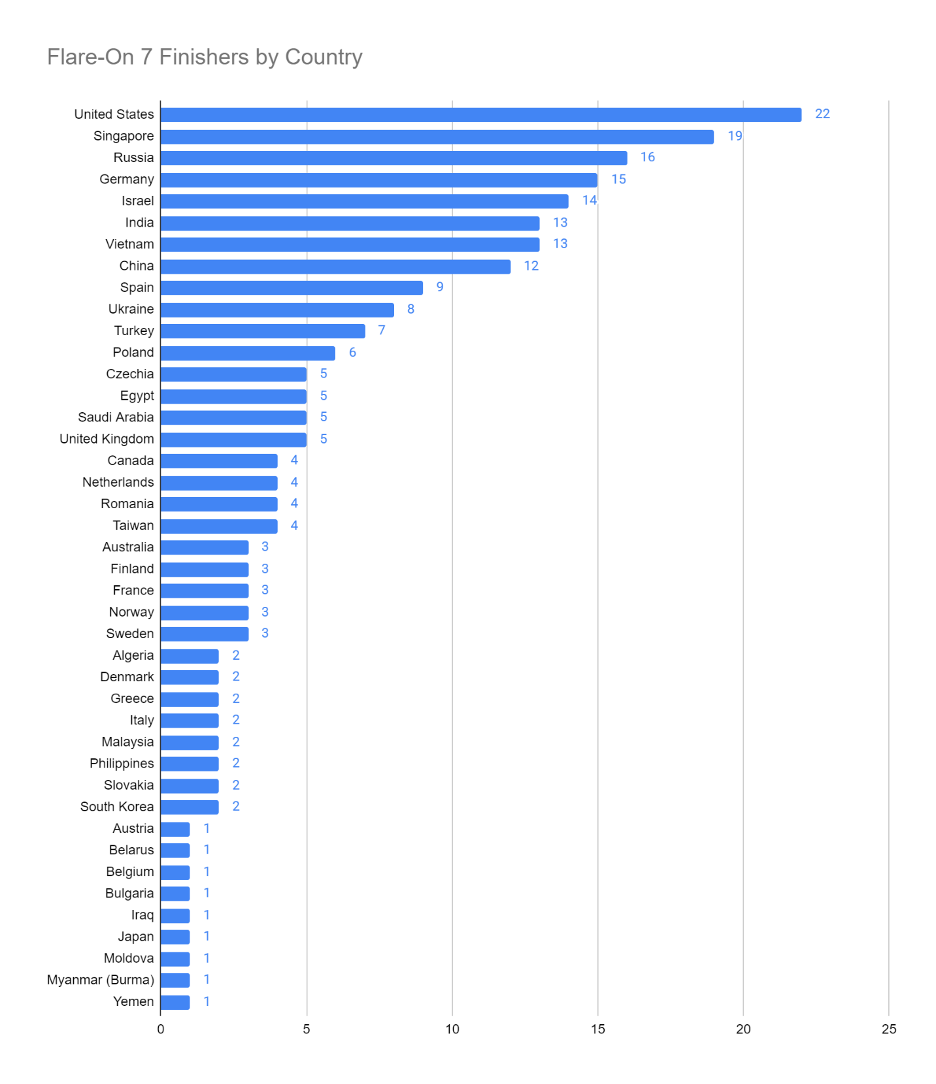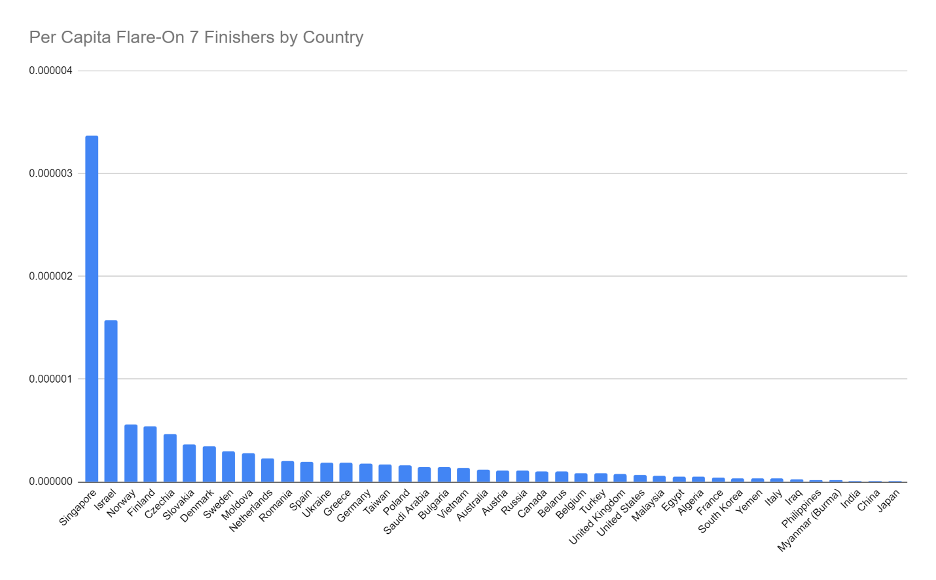 All the binaries from this year's challenge are now posted on the Flare-On website. Here are the solutions written by each challenge author:
This post was first first published on
Threat Research
's website by Nick Harbour. You can view it by clicking here