On twisted way to ISO 27001 compliance, Indeed PAM is your first and main step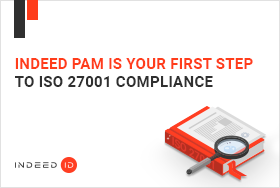 The International Organization for Standardization is an internationally known and respected agency that manages and structures standards for multiple areas, including cybersecurity. ISO 27001 is 'a systematic approach to managing sensitive company information so that it remains secure. It includes people, processes and IT systems by applying a risk management process.' The standard does not advertise any specific products or tools, it offers some sort of comprehensive and detailed compliance checklist.
Why would companies be willing to go through the ISO 27001 certification process? First and foremost, to make sure that their cybersecurity program is secure enough. Million-dollar suits, tarnished reputation, and inner turmoil can be caused by one weak and hidden chain leak. So the certification process seeks for these weaknesses and adjusts cybersecurity to work for the company, not against it. Second of all, compliance with ISO 27001 facilitates the two most important things for all the businesses – the customers' and employees' trust. Who would choose to buy your service or work for your company if you cannot guarantee the security of the private data? Lastly, ISO 27001 certification is a great tool to optimize inner workflow, cut off the obsolete processes and bring your company to continual improvement.
All in all, ISO 27001 provides 14 controls five of which can be related to privileged access management. On the twisted way to compliance, Indeed PAM acts as a centralized platform to control, protect, and audit the privileged accounts. It becomes a real saviour that helps to easily cover these 5 mandatory requirements. Let's investigate them closer.
Section A.6 Organization of Information Security. It requires a company to provide a transparent and detailed management framework that regulates and exercises cybersecurity programs. The company should be fully aware of what roles, responsibilities, and tasks the employees are allowed to perform and actually perform.
How can Indeed PAM help? Through the use of access policies and permissions, the software regulates and manages users and their rights and responsibilities. Indeed PAM restricts the ability to perform any prohibited actions.
Section A.9 Access Controls. The company should regulate and if needed restrict the employees' access to different types of resources and information.
How can Indeed PAM help? Indeed PAM can control what resources, what period of time, and what users the access should be given to. It helps to granularly distribute the access rights as required by the company's needs and cybersecurity program.
Section A.12 Operations Security. It regulates the processes connected to the information flow and storage.
How can Indeed PAM help? The solution is capable of watching over any users' activities, such as attempts to relocate and change the company's data. It can also log all the events which contributes to a faster incidents response. All in all, these capabilities provide another layer of audibility and transparency of the data flows.
Section A.15 Supplier Relationships. It describes the secure interaction process between the company and third parties (vendor's technical support, contractors, remote workers outside of the network).
How can Indeed PAM help? To secure the company's sensitive data from outsiders and prevent unauthorized access, the software can set the list of policies that firmly defines the third parties' rights within the company's information systems. Indeed PAM can also track the users' activities.
Section A.16 Information Security Incident Management. It controls and checks how the company can act in alert security events and if the response workflows are configured in an effective way.
How can Indeed PAM help? Using the out-of-box mechanisms of event logging and video and text recordings of the sessions, Indeed PAM provides a quick way to understand the reason for the incident. If reacted immediately, the company can overcome the incident consequences with less damage.
Indeed Privileged Access Manager can simplify the ISO 27001 certification process because it is a ready-to-use instrument capable of mitigating threats associated with the misuse of privileged access and adjusting the inner cybersecurity plan per requirements. The software UI and architecture make the user experience smooth and easy.
If you want Indeed PAM to back you up during the certification, let us know by the email: inbox@indeed-id.com
The post On twisted way to ISO 27001 compliance, Indeed PAM is your first and main step appeared first on Indeed-ID Blog.