Hillstone Stone0S 5.5R6 lahko sedaj prepoznava in blokira grožnje v celotnem življenjskem ciklu varnostnega vdora
Hillstone je pripravil novo različico operacijskega sistema, ki poganja njihove varnostne rešitve.
Napredne požarne pregrade Hillstone, to so fizične in virtualne naprave, temeljijo na posebej prirejenem operacijskem sistemu StoneOS. Nova različica OS-a, ki prinaša pomemben napredek, je že na voljo za naprave E-Series NGFW, T-Series iNGFW, X-Series Data Center Firewall in navidezni stroj CloudEdge Virtual NGFW.
Blokiranje in prepoznavanje tokom celotnega življenjskega cikla pomeni, da ima nov OS vgrajene večplastne varnostne funkcije, ki so aktivne pred, med in vdoru v informacijski sistem. Podjetja potrebujejo učinkovito in celostno varnostno rešitev, ki vključuje tudi upravljanje življenjskega cikla posameznega napada, kar pomeni, da ni več potrebe po kupovanju in upravljanju več ločenih produktov.
'Pre-Breach' funkcionalnosti preprečujejo napade, to so Preprečevanje Vdorov, Anti-Spam in Anti-Virus, Filtriranje dostopa do URL naslovov ter Filtriranje IP Naslovov po Ugledu. Nekatere stvari se lahko kljub temu pretihotapijo do perimetra omrežja, takrat se aktivirajo 'Breach' funkcionalnosti, to je analiza prispelih objektov z Antivirus-om ter v Sandbox-u. Kaj pa če se nekemu zlobnežu uspe vsemu temu izogniti in zares uide v notranjost omrežja? StoneOS nam ponuja tudi 'Post-Breach' funkcionalnosti. Funkcija Botnet C&C Prevention v veliki večini ohromi škodljivo kodo, saj ji ne dopušča komunikacije z elementi zunaj našega omrežja. StoneShield opcija vključuje Advanced Threat Detection (ATD) ter Abnormal Behavior Detection (ABD).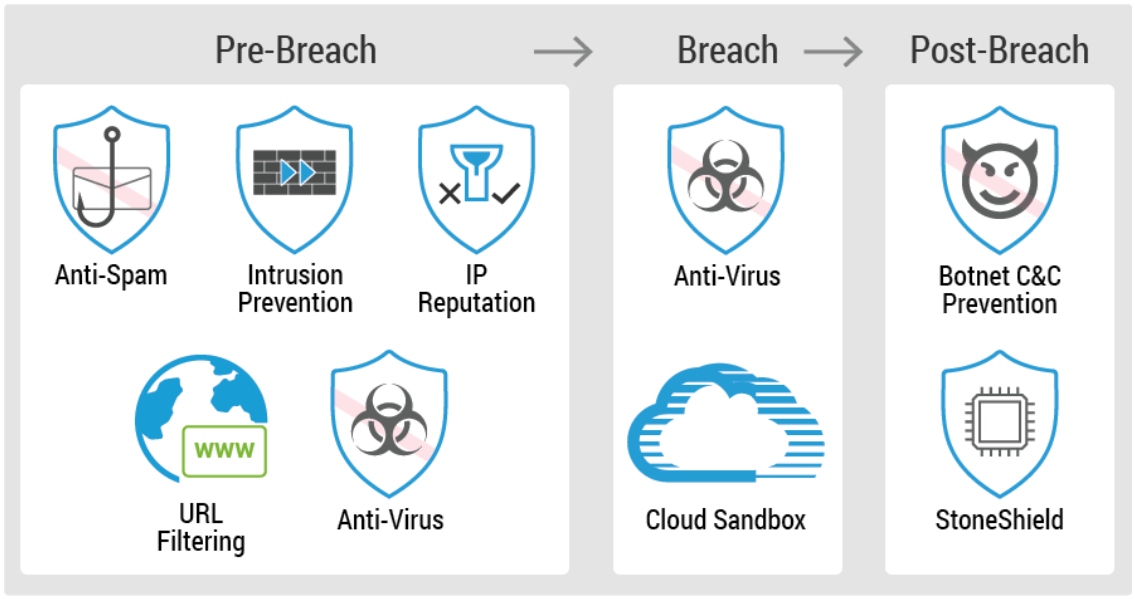 StoneOS 5.5R6 je v celoti skladen z okolji, ki že imajo IPv6, za katera ponuja množico naprednih funkcionalnosti. Za virtualno različico CloudEdge podpira dodatne namestitvene opcije ter okolja, kjer se uporablja po več strežniških oblakov hkrati, na primer z Netflow V9.0 zagotavlja obsežno spremljanje in analitiko prometa v še tako zapletenih mešanih in distribuiranih okoljih.
Več podrobnosti o novostih v StoneOS 5.5R6: https://www.hillstonenet.com/about-us/cta-landing/whats-new-in-stone-os-5-5r6/
Citat
Lingling Zhang, Hillstone Networks:
"Securing business is a 24/7 endeavor today. Networks require full lifecycle threat protection. Hillstone continues to enhance our security platform with added benefits so that our customers don't have to look for multiple point solutions."
Avtor / prevod: Robert Lubej
Povezava do originalne novice:
https://www.hillstonenet.com/?hillstone_press=hillstone-networks-enhances-stoneos-with-full-lifecycle-based-threat-detection-and-prevention
Dodatne informacije:
Alen Šalamun , tehnični direktor , alen.salamun@real-sec.com
REAL security d.o.o.
Žolgarjeva ulica 17 , 2000 Maribor
tel.: 02 234 74 74 , http://www.real-sec.com , info@real-sec.com