To Make Your Hybrid Workforce More Productive, Focus on Application Access and Performance
Spot and deal with application performance issues before they become problems
To help you with this, Forcepoint is bringing out a series of product updates geared toward improving access to business applications when people are back in the office (and even working from home). First up: the new 7.0 release of the software that powers our FlexEdge Secure SD-WAN and Forcepoint Next-Generation Firewall virtual, physical, and cloud appliances.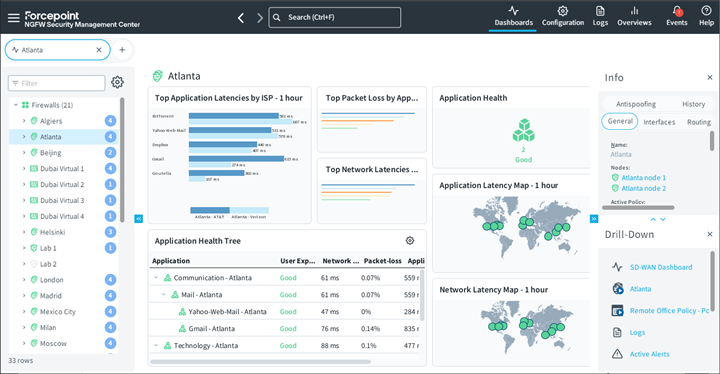 With 7.0, your IT organization can identify potential network issues before they interrupt people's use of business-critical cloud applications. It includes a new Application Health Dashboard that provides customizable, interactive views of crucial data such as network latency and packet loss that can act as early warning signs of network—and app—interruptions.
In addition to keeping the network running smoothly, 7.0 helps you take advantage of the latest standards to further accelerate web- and cloud-based apps. We're pleased to be one of the first network security vendors to support the QUIC and HTTP/3 protocols that Google and other application vendors recommend for getting the best performance. With 7.0, your existing web filtering policies now work seamlessly for connections over QUIC and HTTP/3. You no longer need to downgrade those connections to the older and slower versions of HTTP over TCP.
Accelerate apps with QUIC and HTTP/3
During the pandemic, many organizations accelerated their transition to cloud-based apps. But even with the rapid expansion of Microsoft 365 and Google Workspace, there always seem to be a few line-of-business apps stubbornly clinging to your data centers. Too often, you may have required people to use (fight with) VPN software on their laptops (good luck with phones, ouch). As we've blogged about before, this probably caused all sorts of headaches for support desks as well as performance issues and frustration for your users.
Simplify how internal private apps get connected to Zero Trust Network Access (ZTNA)
That's why 7.0 now makes it even easier to enable business apps inside your data centers to be accessed remotely via Forcepoint ONE's ZTNA cloud service. Now, virtual or physical network security appliances in your data center can automatically connect apps to the ZTNA service and protect them with our renowned deep inspection security. From our remote console, you can even enable this on existing Forcepoint appliances that are performing other functions such segmenting the internal network, providing intrusion prevention, or acting as a VPN concentrator. Imagine: seamless remote access without helpdesk calls or user complaints about VPNs.
Fortunately, there is a better way. Zero Trust Network Access (ZTNA) gives each user highly controlled access to the specific applications they are entitled to without leaving your internal network exposed. ZTNA is driving tremendous interest in our SASE/SSE platform, Forcepoint ONE, as organizations modernize how they deliver access to business resources.
Also in this release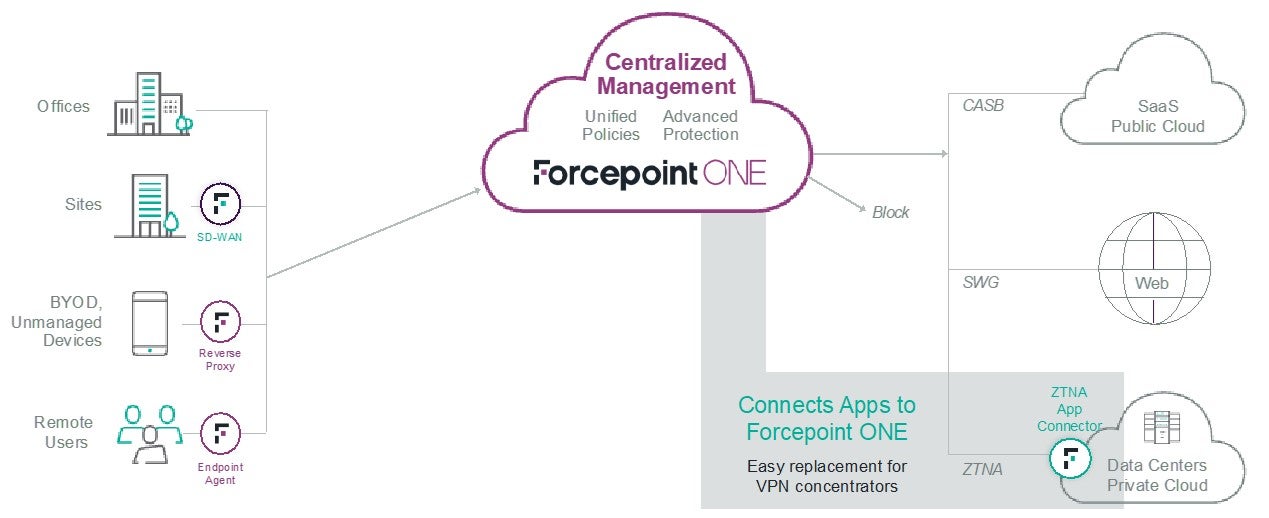 Greater scalability in its SD-WAN site-to-site VPN broker – It dynamically connects up to 5,000 sites, even with a full-mesh topology.

Fresh new management console user interface – Admins will find its familiar, browser-style interface even easier to use.
Here's a brief overview of 7.0 with a demo of the Application Health Dashboard from Timo Tiitinen:
The 7.0 release also includes:
This post was first first published on Forcepoint website by Jim Fulton. You can view it by clicking here