What Do Customers Say About Forcepoint Secure SD-WAN?
Forcepoint Secure SD-WAN
In fact, Gartner analysts believe that by 2025, four out of every five companies will have a strategy in place to unify web, cloud services, and private application access from a single cybersecurity vendor.
Product Page
Software-Defined Wide Area Networking (SD-WAN) is already playing a significant role in enabling businesses to shift to a holistic security platform. Built into WAN facilitates a move away from the traditional hub-and-spoke network architecture toward a model that supports a decentralized, hybrid workforce.
The future usually arrives quicker than you expect.
Much has been written by analysts about what qualities to look for in SD-WAN products – but what do the cybersecurity professionals currently managing the tools have to say?
Forcepoint Secure SD-WAN pairs secure connectivity with improved resiliency to lower costs and reduce risk, making it a practical, if not attractive, entry point for organizations to begin their pivot to SASE.
One analyst using Forcepoint NGFW with SD-WAN agrees, noting that the platform led to greater efficiencies:
Gartner Peer Insights on Forcepoint Secure SD-WAN
Seamlessness is a key characteristic of SASE, because consolidating security products doesn't help anything if it leads to greater complexity.
Another manager of security monitoring and response believes the centralized management, paired with real-time traffic visualization, warrants a top rating: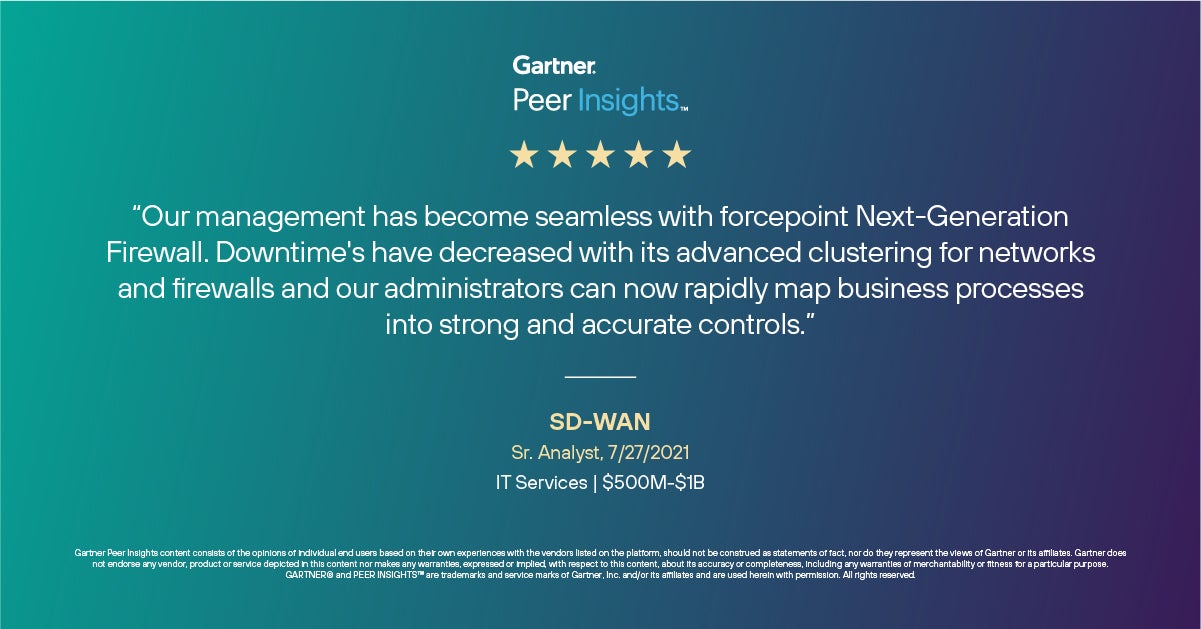 Of course, the grass can always seem greener on the other side. That's why it helps to hear from companies that have used other NGFW and SD-WAN platforms: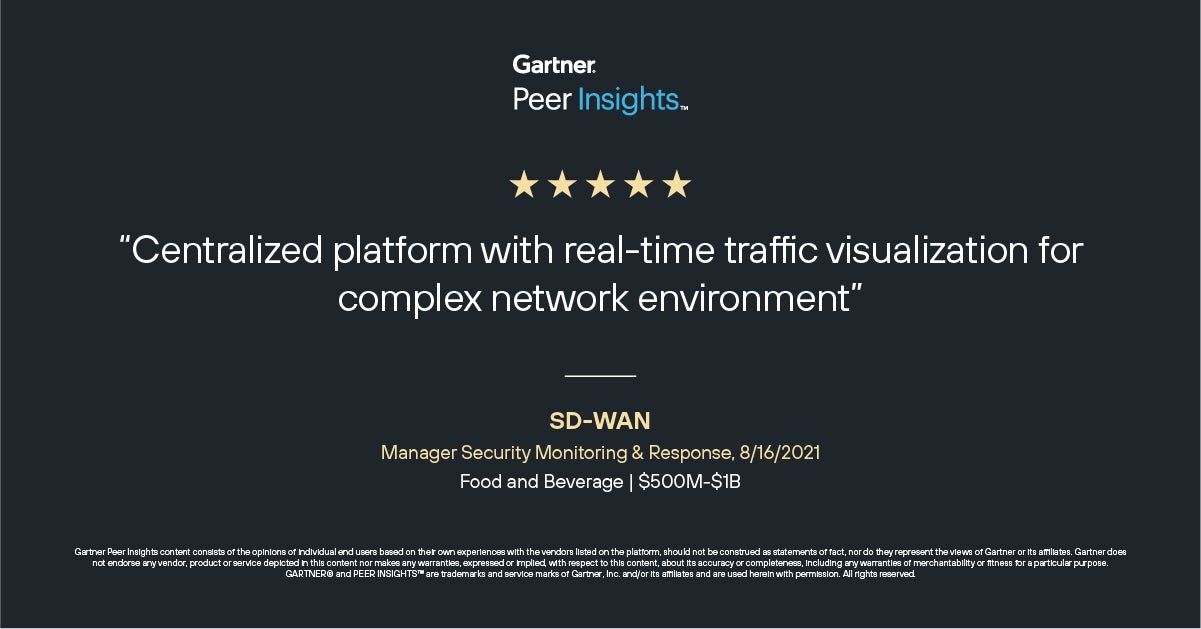 Customer Story
Big Star
Big Star – Blue Jeans and Clothing
Case Studies on Forcepoint Secure SD-WAN
How exactly are customers leveraging Forcepoint SD-WAN? It enables them to remodel their network architectures to better support the growth of the business – whether that's through expansion of physical locations or securely extending services.
At Big Star, the retailer was able to migrate from MPLS with SD-WAN and create greater resiliency by using multiple connections from different Internet Service Providers (ISPs). In line with SASE, the centralized management enabled the company to update and publish policies to all devices and locations at the single click of a button.
Nexpertis – Business Process Experts
Customer Story
Nexpertis leverages  Forcepoint Secure SD-WAN to keep its foot on the growth gas pedal while keeping costs down. The business process management provider was able to secure the connections between its data centers, offices, and the cloud services it supplied to customers. The SD-WAN reduced the company's cost of scaling, making it more financially feasible to continue expanding at the rate it needed to.
Check out our Forcepoint Secure SD-WAN product page to learn more about about how Forcepoint can help your business shift to SASE with a more reliable and secure network.

This post was first first published on Forcepoint website by Bryan Arnott. You can view it by clicking here