AirID FIDO – New wireless, secure Passwordless Authentication
New AirID FIDO security key enables wireless, Passwordless Authentication for PC, tablet and online services for the first time.
MICROSOFT, OKTA, PING, DUO, RSA and many others support AirID FIDO directly without additional software, just set it up and you're done!
The perfect alternative or complement to USB based security keys.
AirID FIDO is immediately available for online order at airid.com/shop for 69,90€.
Duesseldorf, Germany, April 23, 2021, certgate GmbH, one of the leading specialists for secure IT Workplace solutions and member of the international FIDO Alliance for years, has announced the new AirID FIDO, an extension of the AirID product family for wireless and password-free login to PC, tablet and online services.
The AirID FIDO is the perfect combination of strong security and high usability. The need for simple but strong authentication is increasing worldwide. Especially with the COVID-19 situation, phishing attacks are rising sharply for home and remote work, and millions of corporate-owned devices are shared on home-office networks. Here, it is critical for enterprises to secure every user at every location. The increasing convergence of personal and professional tasks requires simple solutions that are secure and offer an optimal user experience.
AirID products are "IT SECURITY – MADE IN GERMANY" and have been providing the highest level of security and protection in companies and government agencies internationally for years and are even used by almost all German federal government agencies throughout classified (VS-NfD) information.
With AirID FIDO, all companies and professionals, even without special infrastructure, can use the strong and simple AirID security and thus sustainably protect themselves against account takeovers and thus also avoid DSGVO damage.
"Users today don't want to think about or pay extra attention to security. IT security simply has to be there in the background to protect. That's exactly what AirID FIDO is – the wireless key stays in your pocket; no more forgetting, losing, getting stuck – and yet all account data is securely protected." explains Jan C. Wendenburg, CEO certgate GmbH.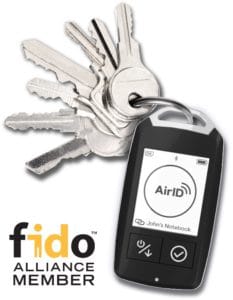 The AirID FIDO is available in two variants.
The AirID FIDO Mini is a compact and lightweight keychain, perfect for your pocket or handbag. A lightweight at 36 grams, it fits everywhere and will be with you anywhere.
The unique AirID FIDO BADGE is specially designed for organizations that already have a visual ID card or RFID access card in use. Simply insert the card, hang it around your neck or clip it to your belt, and your ID card becomes a smart digital ID for your PC and tablet.
The AirID FIDO with FIDO2 authentication is supported by many well-known companies, such as Amazon AWS, Apple, Dropbox, DUO, Facebook, Google, Github, IBM, Microsoft, RSA, Salesforce and many others. FIDO2, an extension of the previous standard U2F, is a global W3C standard and provides strong, secure and passwordless authentication.
This AirID FIDO support enables a single key to work with many services and applications – from email clients, identity access management (IAM) solutions, VPN gateways and services, password managers, social media platforms, collaboration tools and many more.
Enterprises can easily and quickly deploy AirID FIDO, thanks to its built-in support from leading international IT vendors and IAM applications, such as Microsoft Office 365 / Azure Active Directory, OKTA, Ping and many others. It eliminates the need for costly custom integrations or special authentication devices for different systems.
The AirID FIDO is available online airid.com/shop and from authorized partners.
For more information on the AirID product family, click here: www.AirID.com
Amazon AWS, Apple, Dropbox, DUO, Facebook, Google, Github, IBM, Microsoft, Ping, RSA, Salesforce, FIDO, FIDO2 are registered trademarks of their respective owners.
Der Beitrag AirID FIDO – New wireless, secure Passwordless Authentication erschien zuerst auf AirID.