Securing the Perimeter of Higher Education – A Fireside Chat with SUNY Plattsburgh
Higher education institutions of today must practice a delicate balancing act of delivering a high-quality, uninhibited student experience while simultaneously mitigating the risk of both external and internal threats – all while trying to stay on a tight budget with minimal staff.
It's also meant to be a safe space where new ideas can grow, old stigmas can be put to rest, and provide the resources for new discoveries to be made – which also means these institutions can easily become prime targets for espionage, sabotage, and digital theft.
Approaching networking with a security-first mindset is critical for building an architecture that will connect—but also protect—your institution for years to come. There are many quick and dirty solutions for spinning up a full mesh SD-WAN but bolting on security as an afterthought often leads to gaps in visibility, critical design flaws, and a less-than-ideal security posture. Network security doesn't have to be complex, but it also shouldn't be approached with tools built by teams lacking a security pedigree.
Whether it's a bad actor seeking to steal groundbreaking research to sell for profit or a scorned former student looking for revenge – protecting the edge of higher education has never been more important than it is today, but so is empowering students without getting in the way and designing a realistic network security strategy that fits within resource constraints.
And as regulation begins to catch up to innovation, the intersection of security and privacy is where Forcepoint meets our customers. With each product release that impacts customer data, we release a Management of Personal Data (MPD) document that lays out what data is collected and how to provide full transparency into how our products work and how you can best design your strategy to align with your institution's privacy practices.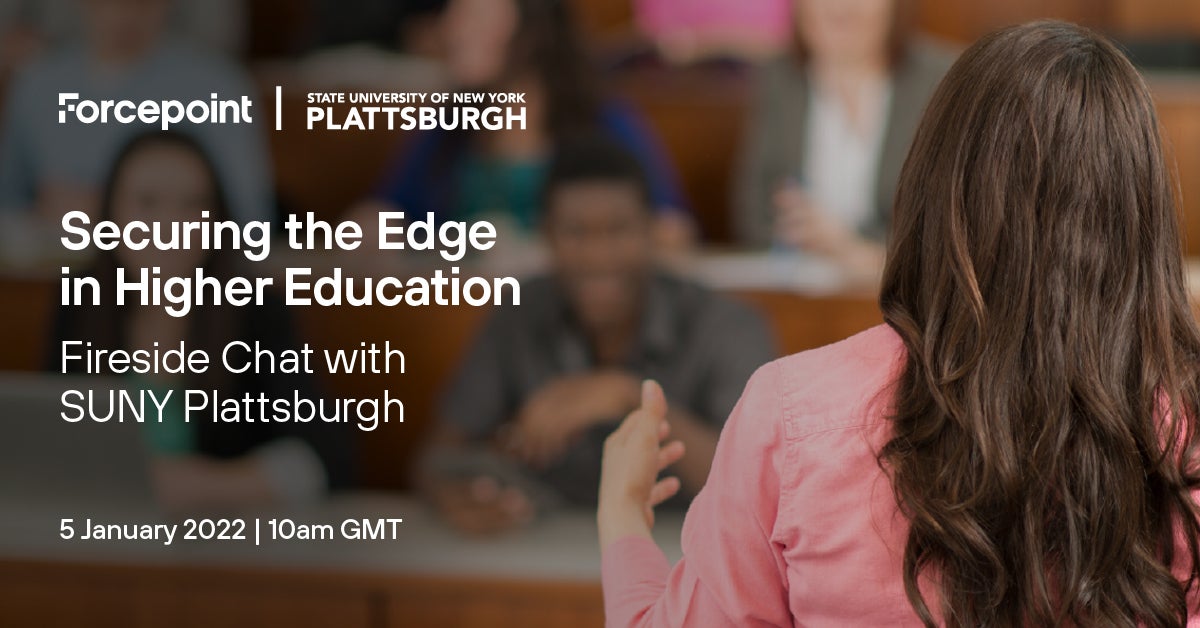 In today's landscape, it isn't just about security— it's also about navigating the complex and ever-evolving privacy landscape. Forcepoint Next-Generation Firewall is well known among the University network crowd in Europe because we take a privacy-by-design approach to our products. We became a fast favorite of many distinguished German institutions since Germany has some of the strictest data privacy laws in the world
Whether you are building a new network from scratch or reinventing an old one, it is critical that institutions select solutions that enable teams to automate, streamline and accelerate to keep up with the pace of the modern world.
As the pandemic rages on, many businesses continue to wrestle with shrinking budgets and rising expectations. It seems we can no longer go a day without a new critical vulnerability disclosure or announcement of a data breach, yet there is no escaping the reality of limited budgets and less headcount. Network and security teams are continually being asked to do more, with less, without sacrificing security or the student experience. Not only is this a tall order, but it requires thoughtful planning and strategic selection of tools that will enable teams to become more agile through leveraging features like advanced automation, remote administration, and doesn't bog down administrators in unnecessary alerts.
In this discussion, you'll hear how Jim leveraged Forcepoint NGFW to troubleshoot application-level problems and examine network traffic—all while achieving an impressive uptime of 99.999%. Don't miss this opportunity to learn more about how Forcepoint can help you secure your competitive and network edge – reserve your spot today.
Join us for a January 5 fireside chat between Jim Lucas, Network Manager at State University of New York at Plattsburgh and Yuval Sarig, our Senior Solutions Engineer at Forcepoint, to discuss how Forcepoint has helped secure the perimeter of SUNY Plattsburgh from the person with hands-on experience defending the front lines of his institution.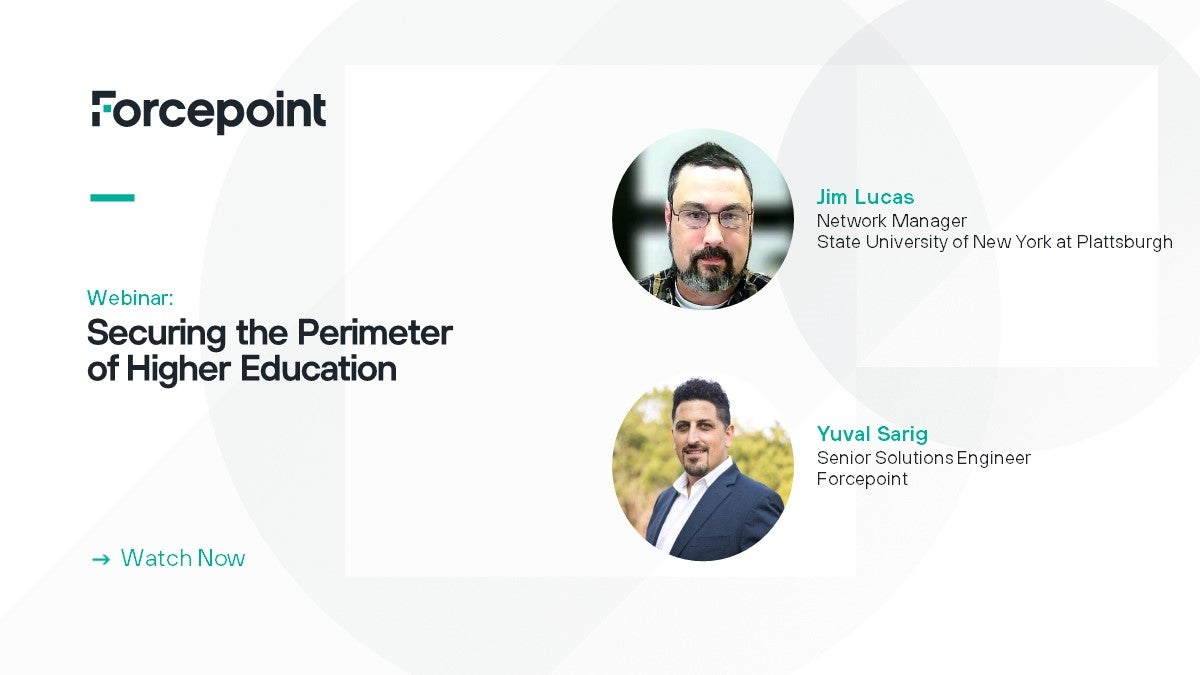 This post was first first published on Forcepoint website by Cat Allen. You can view it by clicking here