ThreatMark Recognized Top 5 in Deloitte's 2021 Technology Fast 50 CE
ThreatMark, provider of the most advanced online fraud prevention solution in the market, has been recognized in the Top 5 Deloitte's 2021 Technology Fast 50 CE list honoring the most innovative and fastest-growing technology companies in Central Europe.
This recognition is a testament to ThreatMark's strong and high YoY growth rate of 2 854% and our hard work in building innovative technology to bring trust into the digital world. ThreatMark empowers digital businesses, such as those in the Financial Services industry, to tackle major modern challenges, ranging from fastened digital transformation to exponential rise in threats and sophisticated fraudulent activities across all digital channels.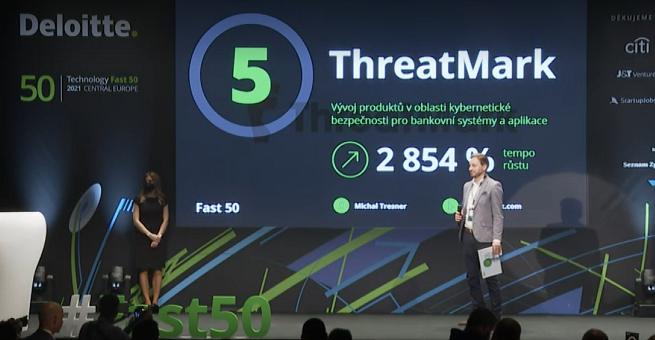 "Fifth place in Deloitte's Fast 50 Central Europe for 2021 is a terrific testament to the important work the team at ThreatMark does every day. As we continue to invest into further innovation of our solution capabilities and the company's global expansion, this recognition strongly signals that we're on the right track." said Daniel Rawlings, CEO & President at ThreatMark, "I'm personally thrilled to have our work so widely recognized by our users and the market alike."
Michal Tresner, ThreatMark's co-founder, CPO and the Chairman of the Board, said: "Rapid digitalization processes have emboldened cybercriminals around the world to engage and jeopardize users' assets across industries. Our innovative solution is recognized as highly competent to be at the forefront of fighting off these malicious trends. I'm glad to see all the hard work we invested in innovating our fraud prevention solutions, and securing digital businesses around the world, is being recognized."
Deloitte's Technology Fast 50 and 500 programs have been running for more than 2 decades now. With these, Deloitte recognizes the fastest growing and public technology companies. The program annually compiles a ranking of innovative and fast-growing companies in Central and Eastern Europe and EMEA.
Visit Deloitte's pages for the full report and list, here.
About ThreatMark
Founded in 2015, ThreatMark brings trust in the digital world through advanced fraud prevention solution built on extensive cybersecurity know-how and the latest advancements in AI & Data Analytics. ThreatMark's Anti-Fraud Suite processes a comprehensive set of data to continuously monitor user identities & their intentions while providing protection from sophisticated digital fraud.
Nikola Kozuljevic  
Marketing Manager
This post was first first published on TM News – ThreatMark's website by Nikola Kozuljevic. You can view it by clicking here