Transforming to a Predictive Cyber Defense
If you're like me, working from a home office, you can't help but think about all of the cybersecurity tradeoffs that accompanied the widespread shift from on-premises to cloud-delivered services. Better productivity in exchange for deeper vulnerabilities—like man-in-the-middle attacks—wasn't a choice many cybersecurity pros would make under normal circumstances.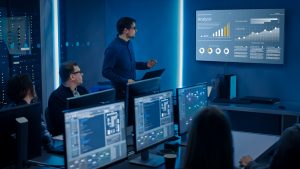 How much of the global economy is managed from a home network these days? Or, more importantly, what percentage of your company's most sensitive data passes through employee home networks right now?
In the same report, Gartner said that with so many employees continuing to work from home, "endpoint protection services will need to move to cloud-delivered services." While the vast majority of our customers made the overnight switch—many still need to adopt a cloud-native architecture.
Yet, for better—and worse—there's no going back to how things were. When Gartner revealed its annual list of top cybersecurity trends last month, we learned that while 64% of employees now work from home, at least 30-40% will continue to do so once the pandemic is over.1 In the foreseeable future, the Wi-Fi streaming your kids' favorite shows will transport an untold amount of business data, too. All of which must be protected from device to cloud.
1. Establish Building Blocks
Stopping unauthorized access to corporate assets—and protecting them—is, on the face of it, a never-ending battle. You can't build a moat, a wall, or a bubble and say, hey, my work here is done. We've found our customers need to solve two primary issues:
No doubt the best transformations are the ones you plan for and manage from end-to-end. But the cloud transformation that many didn't plan for—and most cybersecurity defenses couldn't handle—turned out to pack the biggest punch. Here are three ways to better prepare for what comes next.
While paradigms may shift, going forward we believe it's predictive defenses that will enable faster, smarter and more effective data loss prevention. We get there by enabling optimized endpoint threat protection, Extended Detection and Response (EDRs) that improve mean time to detect and respond to threats, and useful analytics that not only empower your SOC but also help inform and engage executives.
First, identify where data can leak and be stolen.
Second, prevent that event from happening with data protection spanning endpoints, web gateway, and the cloud.
So, we created the MVISION Device-to-Cloud Suites to protect all of this data coursing through home networks. Among the many types of threats we've tracked, one of the biggest threats is viruses infecting browsers and capturing keystrokes to steal sensitive information. We solve this by isolating a browser so that no one can see what information has been entered.
Cybersecurity is perceived as the second highest source of risk for enterprises, losing out to regulatory concerns, notes Gartner.3 While today only one in 10 board of directors have a dedicated cybersecurity committee, Gartner projects that percentage will rise to 40% in four years.
2. Understand Threat Perspectives
Gaining executive and board-level buy-in has long been a topic of concern in the cybersecurity field. Thanks in part to the harsh publicity and severe damage caused by state-sponsored hacks that day is finally in sight. In a recent blog, McAfee's Steve Grobman indicated SolarWinds is the first major supply chain attack which represents a shift in tactics where a nation state has employed a new weapon for cyber-espionage."2
The ability to gain visual insights and predictive assessments of your security posture against dangerous threats is what generates actionable intelligence. A CISO or CSO should be able to look at a single screen and understand in minutes how well protected they are against potential threats. They also need a team that's ready to take action on these insights and enact appropriate countermeasures to protect corporate assets from imminent attack.
One reason why cybersecurity hasn't been elevated to an ongoing board concern previously is that many executives lack a window into the cybersecurity in their midst. And lacking a window, they have no keen understanding of their organization's vulnerabilities. Which also makes it difficult to assess the operational value of various cybersecurity investments.
In fact, Gartner's 2020 CISO Effectiveness Survey found that 78% of CISOs have 16 or more tools in their cybersecurity vendor portfolio, while 12% have a whopping 46 or more.5 Mind you, we know there is no end-all, be-all Security vendor who does everything. But with our Device-to-Cloud Suites, your security technology resides in one umbrella platform. Without McAfee, you'd need one vendor on the desktop, another in the cloud, and one more on the web gateway.
3. Eliminate Headaches
You want to protect your palace from thieves, but when do you finally have too many latches, locks, and bars on your doors? At some point, less is more, particularly if you can't remember where you put your keys. Consolidation is one of Gartner top five trends this year. Four out of five companies plan to trim their list of cybersecurity vendors in the next three years.4
We're Here to Help
McAfee is here to help organizations manage the transformation to a predictive cybersecurity defense and we provide the footprint to secure the data, endpoints, web, and cloud. From my vantage point, securing distributed digital assets demands effective security controls from device to cloud.
Consolidation is intended to remove headaches rather than create them. With one SaaS-based suite that addresses your core security issues, you have lower maintenance, plus the ability to visualize where you're vulnerable and learn what you need to do to protect it.
Learn More About McAfee Device-to-Cloud Suites:
MVISION Device-to-Cloud Suites provide a simplified way to help accelerate your cloud transformation and adoption, better defend against attacks, and lower your total cost of operations. The suites scale with your security needs to deliver a unified endpoint, web, and cloud solution.
Source:
https://www.gartner.com/en/newsroom/press-releases/2021-03-23-gartner-identifies-top-security-and-risk-management-t
1. Gartner Identifies Top Security and Risk Management Trends for 2021 (Gartner)
https://www.mcafee.com/blogs/other-blogs/executive-perspectives/why-solarwinds-sunburst-is-a-wake-up-call/
2. Why SolarWinds-SUNBURST is a Wakeup Call (McAfee)
https://www.gartner.com/en/newsroom/press-releases/2021-03-23-gartner-identifies-top-security-and-risk-management-t
3. Gartner Identifies Top Security and Risk Management Trends for 2021 (Gartner)
5. Gartner Survey Reveals Only 12% of CISOs Are Considered "Highly Effective" (Gartner)
4. Ibid.
The post Transforming to a Predictive Cyber Defense appeared first on McAfee Blogs.
https://www.gartner.com/en/newsroom/press-releases/2020-09-17-gartner-survey-reveals-only-12-percent-of-cisos-are-considered-highly-effective
This post was first first published on Enterprise – McAfee Blogs's website by Britt Norwood. You can view it by clicking here