Employee Spotlight – David Stromberg
Employee Spotlight
PROFILE – DAVID STROMBERG
David Stromberg – Talent Acquisition Manager
What was your first or the weirdest job that you have ever had?
My first job was loading groceries into people's cars at the local grocery store.
If you could do another job for a day, what would it be?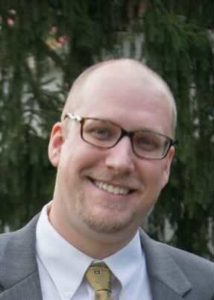 Astronaut on a space walk.
What would you most like to tell yourself at age 13?
Just go for it.
What is your hidden talent?
I got a really great snap.
What is the first concert you attended?
HFStival, 1998, RFK Stadium, – Green Day, Foo Fighters, The B-52's, The Mighty Mighty Bosstones, Everclear, Barenaked Ladies, Wyclef Jean, Marcy Playground, Soul Coughing, Semisonic.
What did you always wanted to try and never did?
Skydiving. I'd feel sorry for the poor soul with me on his back.
If you could meet anyone in the world dead or alive who would it be and why?
Leonardo DaVinci. He was able to mix art with science into multiple disciplines at the same time. His integrated approach of learning could improve multiple fields, but I would be specifically interested in applying his genius to our educational or medical systems.
If you had to eat one meal, every day for the rest of your life, what would it be?
Pad Thai.
What are three things you wouldn't miss if you were stranded on an island?
My phone, crowds, and drug commercials.
What is your favorite board game?
Scrabble.
What is one thing you cannot resist?
Thrasher's French Fries.
What is your greatest fear?
Failure.
What is the most important thing you have learned in the last five years?
Your kids will teach you everything you need to know about yourself.
What would you do (for a career) if you weren't doing this?
Teacher.
What kinds of hobbies and interests do you have outside of work?
Currently, reef keeping, gardening, and art- painting and pottery.
What tv show/movie are you ashamed to admit you love?
Antique Roadshow.
Which one would you want most – flying cars, robot housekeepers, or moon cities?
Moon cities.
Pancakes or waffles?
Pancakes.
Coffee or tea?
Coffee.
Chocolate or vanilla?
Chocolate.
The post Employee Spotlight – David Stromberg appeared first on ThreatQuotient.