Our PKI BrightTALK Coffee Break is over, but It is Not Too Late to Learn More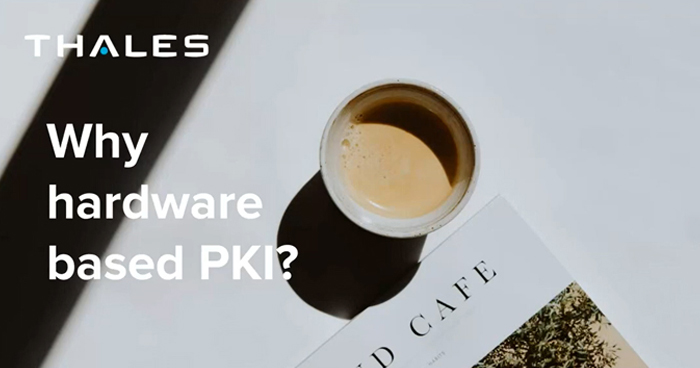 In many corporations large and small, there remain a variety of unknowns around public key infrastructure (PKI) and what this critical user authenticating technology can mean for the organization. As many companies have learned the hard way, authentication should be at the very core of every organization.
Recently, one of Versasec's top technical consultants, John Asan, joined in a virtual coffee break with Thales' Yarden Gaon, Product Manager of IAM Solutions, that examined why hardware-based PKI is one of the best passwordless methods for user authentication. As John notes, we need PKI because "Malicious actors may use attack vectors to jeopardize the authentication mechanisms of an organization."
The talk covered why enterprises should use strong authentication, and why hardware-based PKI is such a terrific option. The speakers examined the nuances hardware-based PKI brings in comparison to other two-factor authentication (2FA) methods. Versasec, with its vSEC:CMS identity and access management (IAM) solution, is a core technology partner in Thales' Access Management solution line.
During the discussion, John pointed out the role of our vSEC:CMS identity and access management solution in relation to PKI, and its role in managing devices. Yarden talked about the benefits for Thales PKI devices by integrating with vSEC:CMS.
While our team here at Versasec lives and breathes PKI, it became clear by the job titles of this session attendees, that PKI has an impact on organizations at nearly every level. Participants ranged from security consultants to network engineers, chief information officers, IT managers, systems and information security engineers, business and technical managers, product managers, chief information security officers, cyber security specialists, security delivery analysts and more.
If you missed the discussion live, we invite you to learn more about PKI by viewing the session on demand by here: https://www.brighttalk.com/webcast/2037/487518
This post was first first published on Versasec Blog's website by . You can view it by clicking here