Versasec is 400 customers strong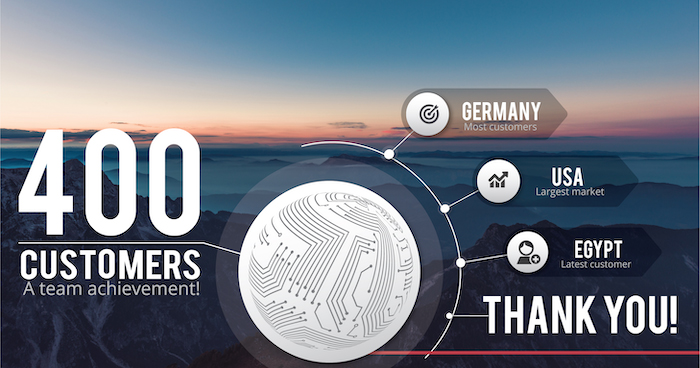 400. Four. Hundred. Four hundred. Four-zero-zero. 4-0-0!
No matter how we say it or write it, "400" sounds and looks great. That's because we've landed our 400th customer, thanks to our latest customer win. Around the world, the Versasec team is celebrating because we've reached this milestone and it comes on the heels of our best year ever.
We want to send out special thanks to our teams – sales and technical consultants and the on-the-ground teams spread out across four continents. Also, to our R&D and software developers who build the products our customers and prospects want, and our amazing support staff who are always ready and giving the best customer support, reflected in above industry standard customer retention. They have all worked together brilliantly to help us achieve this important milestone.
Beyond congratulating ourselves, though, we are reflecting on what our growth and our success mean. From Versasec's inception to today, the markets and users in general are far more aware of how and why they must protect their data.
When the world essentially shut down a year ago because of the COVID-19 pandemic, it became increasingly obvious that many companies were still underprepared for the security elements a fully remote workforce might need. The pandemic proved companies can make remote work practical and possible if they can protect their data. Public key infrastructure- (PKI) based two-factor and multi-factor authentication – proving that users are who they say they are — are easy and sensible solutions. They are also available in a variety of formats, from tokens and smartcards to virtual credentials. Deploying and managing them quickly and easily requires a solution like vSEC:CMS.
The lessons learned from the COVID crisis won't go away, even as more workers are heading back into their companies again. Versasec has proven its worth as an important partner for companies no matter where their workers conduct their jobs.
To our customers – from our very first to our 400th – we thank you for putting your faith in vSEC:CMS and for your loyalty. No matter how many customers work with us, you are all equally important in our eyes and our team is always available for your needs. We look forward to our continued growth with you at our side.
This post was first first published on Versasec Blog's website by . You can view it by clicking here