Egypt PKI expert joins Versasec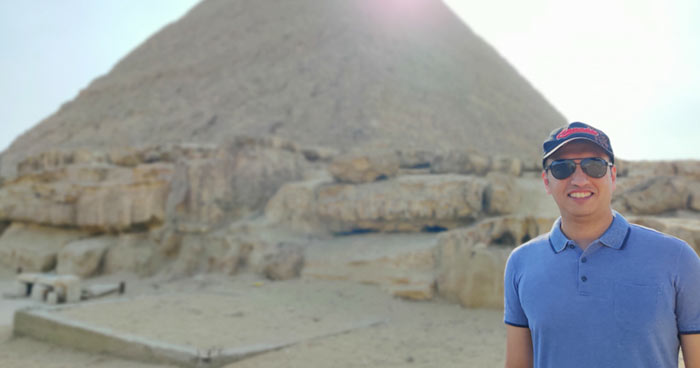 Versasec's Global Presence is a Big Plus for this Software Engineer!
It might surprise some that one of the global hotspots for public key infrastructure (PKI) technology today is Egypt. As our newest team member, Kamel Elias, explains, Egypt is more than just incredible ancient ruins. It's also a hotbed for technology that includes the construction of one of the world's largest planned smart cities and is a nation with a strong focus on PKI.
We talked with Kamel to get his thoughts on technology, Versasec, and his new role as a Versasec technical consultant in his home country. The Versasec office there is our second in the middle east region, augmenting our presence in Dubai.
Kamel came to Versasec after serving for several years in the Egypt's Ministry of Communication & Information Technology . There, he served as a software engineer building PKI solutions for the government, specializing in digital signatures and identity access management. Now, he will use his extensive knowledge to expand Versasec's presence in Egypt.
What attracted Kamel to Versasec is how different it is from his former government job. He worried at first that finding a job focused on PKI might not be possible, but then along came Versasec, which "was really different from any other employer I met in Egypt. The company is 100% PKI focused, and that really fit well with my skill sets."
Kamel especially liked that Versasec has a global presence and a great company culture. "Getting to know and work with diverse people from different countries, with different experiences and backgrounds is great. I really like that we can all collaborate effectively and be successful."
His day-to-day duties will include a mix of consulting and sales, providing Versasec clients in the region with technical guidance, and providing prospective customers information on Versasec's solutions through meetings and seminars. He's looking forward to helping align the needs of customers in Egypt with Versasec's business goals.
When he's not getting customers and prospects up to speed on Versasec's technology, Kamel spends a lot of his time giving back to his community. As a young man, he was invited to participate as an organizer in the World Youth Forum. The forum engages and helps young people from all parts of the planet so they might exchange views and recommend initiatives to decision-makers and influential figures, all with the goal of building a better world. Kamel graduated from the Presidential Leadership program in 2017, and since then has been helping organize major events (in non-COVID-19 times) for the Leadership Program . He also helps build online magazines for the Leadership Program.
Other interests for Kamel include learning every aspect of computer security, learning more about artificial intelligence and smart cities, helping his nation with its smart city efforts, and visiting countries like Estonia where smart cards are issued to every citizen. He'd also like to visit France some day and dine in Paris to sample its world-renowned food scene. However, he adds, some of the best food on the planet is found right in his own country.
Kamel – who speaks English, Arabic and French – says something only people who work with him in close physical proximity might know is that when he is focused deeply, he tends to burst into song. It's possible, he says, that his former colleagues will miss his presence for that reason. "I don't sing well," he says, "but I do miss having an audience."
This post was first first published on Versasec Blog's website by . You can view it by clicking here