See Zero Trust in Action at the Zero Trust Demo Forum
The Zero Trust Demo Forum represents a great place to see Zero Trust solutions in action and to learn about a variety of aspects to consider for Zero Trust.
We'll dive deeper into the topic in an upcoming event. The Zero Trust Demo Forum, March 23-25 will provide demos from a wide range of vendors, panel discussions on various Zero Trust topics and interviews with leading industry analysts like Richard Stiennon, Dr. Chase Cunningham, and Anton Chuvakin.
Forcepoint is pleased to be sponsoring this event that has a lot to see: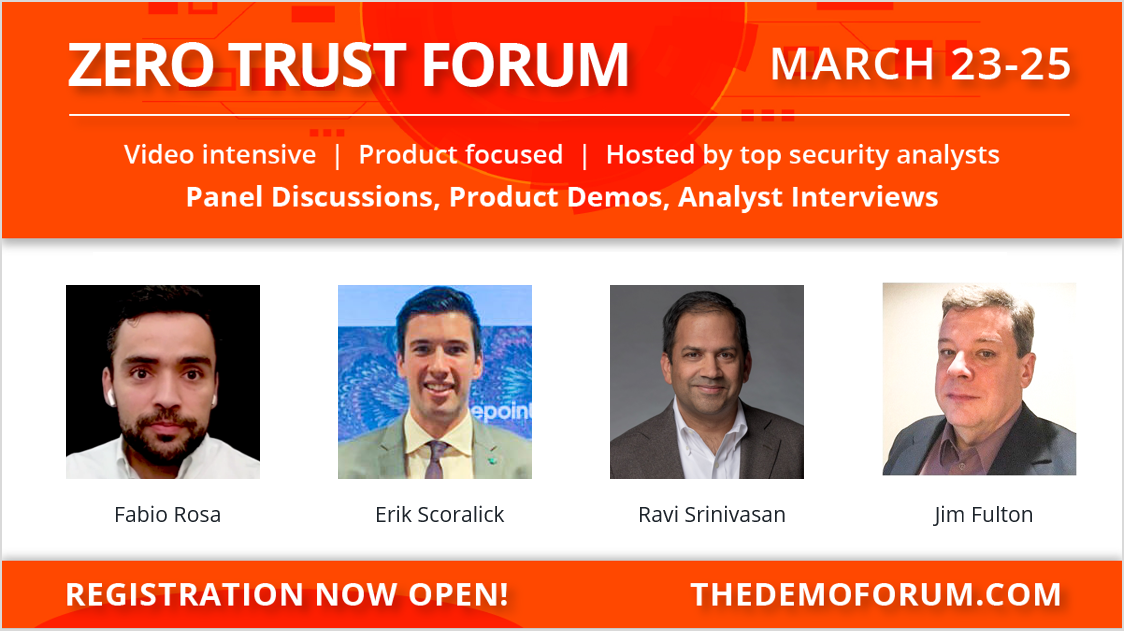 Demo of Zero Trust Data Protection and Zero Trust Monitoring – behavior-based control of how data is used even after it is downloaded that uses continuous monitoring of user actions to dynamically adjust based on the risk each user poses in any moment; presented by Erik Scoralick, Consulting Sales Engineer
Demo of Forcepoint Private Access – Zero Trust Network Access to private apps without the pain and risks of VPNs; presented by Fabio Rosa, Consulting Sales Engineer
Analyst Interview with Forcepoint's Ravi Srinivasan – Richard Stiennon speaks with Ravi about how Zero Trust is enabling people to work anywhere while keeping data safe everywhere
Presentation on Leveraging Zero Trust to empower working anywhere – A look at how Zero Trust, delivered via SASE/ZT Edge, is powering the new work-anywhere approach to business operations and how to get there in 4 key steps; presented by Ravi Srinivasan, VP of Solutions and Platform Marketing
Panel discussion about Zero Trust Platforms ­– Perspectives on how Zero Trust is a way of doing cybersecurity that can be delivered as-a-service with SASE; presented by Jim Fulton, Director of SASE & Zero Trust Solutions
Panel discussion about Zero Trust Networks ­– How Zero Trust is evolving beyond just protecting access to controlling the usage of data, continuously; presented by Jim Fulton, Director of SASE & Zero Trust Solutions
Registration for this virtual event is free and all of the sessions can be viewed on-demand March 23-25, 2021, at thedemoforum.com/zerotrust. We hope to see you there!
This post was first first published on Forcepoint website by Jim Fulton. You can view it by clicking here