Escape Endless Implementation with Micro Focus Enterprise Service Management
Companies are relying on Service Desks more than ever in this pandemic.  More employees are working from home and do not have access to their "friendly IT guy." This means that enterprises are reporting significant increases in service desk tickets and consequently the idea of replacing their service desk right now is a scary proposition.  But equally risky is a business held back by inefficient users who cannot use IT, HR, Finance and other services.  This is where Micro Focus can help with our Enterprise Service Management (ESM) solutions, which provide rapid time to value and, importantly, Micro Focus customers can deploy in SaaS, a public or private cloud of their choice, or on–premise.
Making the service operational: benchmark results for Enterprise Service Management
We asked Enterprise Service Management customers to rate "Your experience with making the product/service operational." In the latest research, using double-blind competitive benchmarking, Micro Focus ESM solutions were ranked as the top competitor when compared with all other brands.  Below you will see the top-two box satisfaction results.  By way of an explanation, the percentage shows the abundance of respondents that gave the top score, or more simply, a score of 50% means 1 in 2 of their customers liked it and 1 in 2 did not.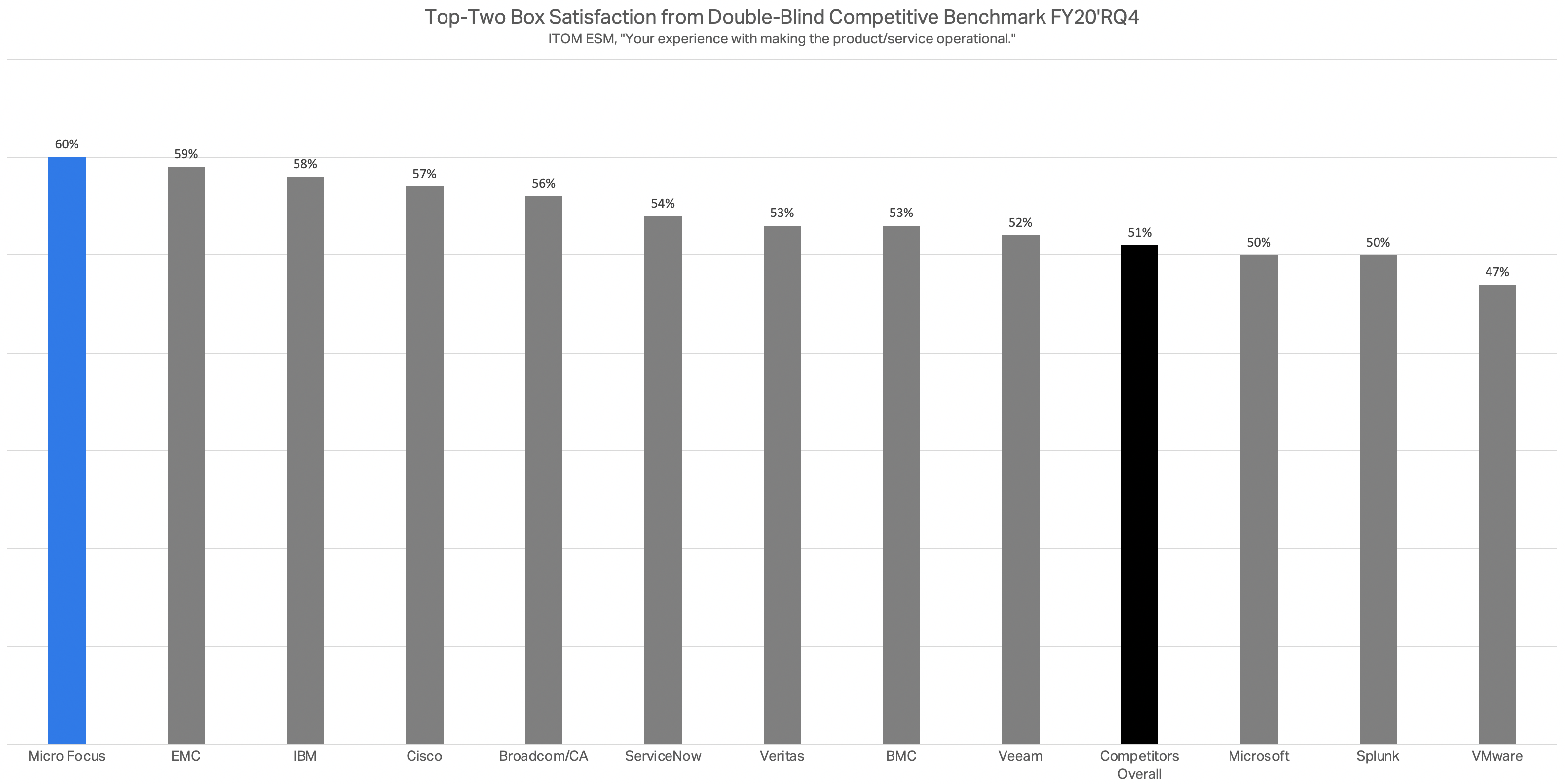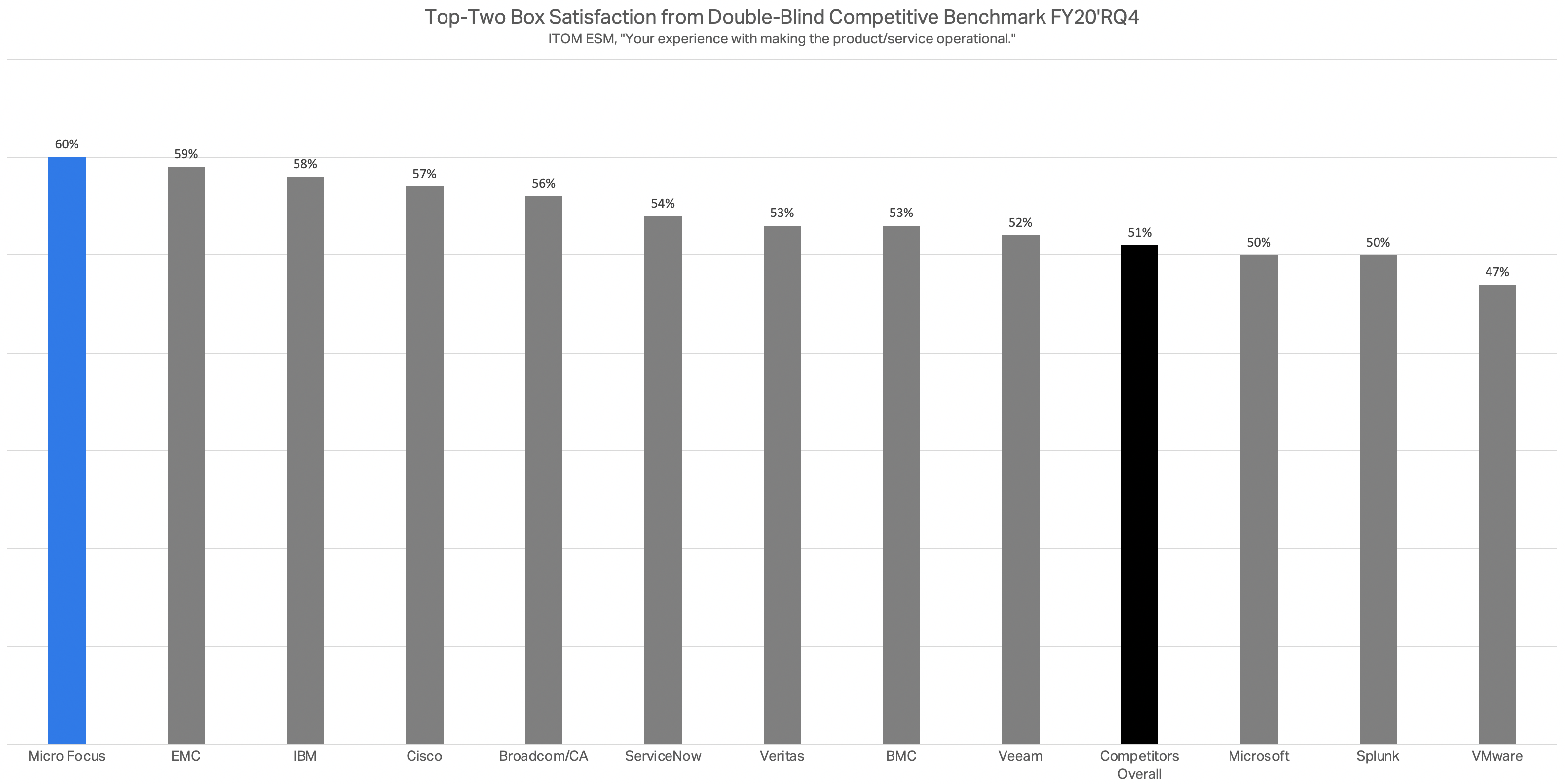 The latest Competitive Benchmark results provide evidence that the experience of making Micro Focus ESM operational is world leading.  The results show that Micro Focus ESM is relatively 2% better than IBM, 6% better than ServiceNow, 7% better than BMC, 9% better than the average competitor and 10% better than Splunk.
Why is Micro Focus so good at rapid deployed ESM?
We do not focus solely on the Service Desk.  We look at the business as a whole and take the customer on a journey to succeed in ESM.  Shown below are three key steps to making our software operational:
Codeless configuration removes the need for complicated and costly scripts. This means your Service Desk can adapt as changes occur, providing needed resilience in the face of digital transformation and the global pandemic.
Machine Learning use cases are built-in out of the box. No need to buy additional tools and costly and time-consuming consultants. This is a game changer for the user experience from day one, offers an immediate Return on Investment (ROI) and reduces long-term Total Cost of Ownership (TCO).
A single platform provides best in class CMS to accurately discover and map your IT and Business Infrastructure, and automatically populate Micro Focus SMAX with that information to support processes such as incident and change management.
In summary, our Micro Focus customers will realise a fast return on investment (ROI) through rapid implementation, everywhere integration and built-in discovery, CMDB, machine learning and automation.  Their users will experience better support with self-learning self-service that gets them the answers and resources they need without the wait.
Call to Action
To find out more and to see the success of this journey in action – join Micro Focus experts, customers and peers at our Virtual Event, ESM: Fast Track to Business Resilience, on January 19, 2021 at 09:15 – 14:30 GMT | 11:15 – 16:30 SAST.
Register today to reserve your place, or to receive a recording.
This post was first first published on Home | Micro Focus Blog website by DrBorderick. You can view it by clicking here