The Popular vSEC:TOOL K-Series is Now Available in the Microsoft Store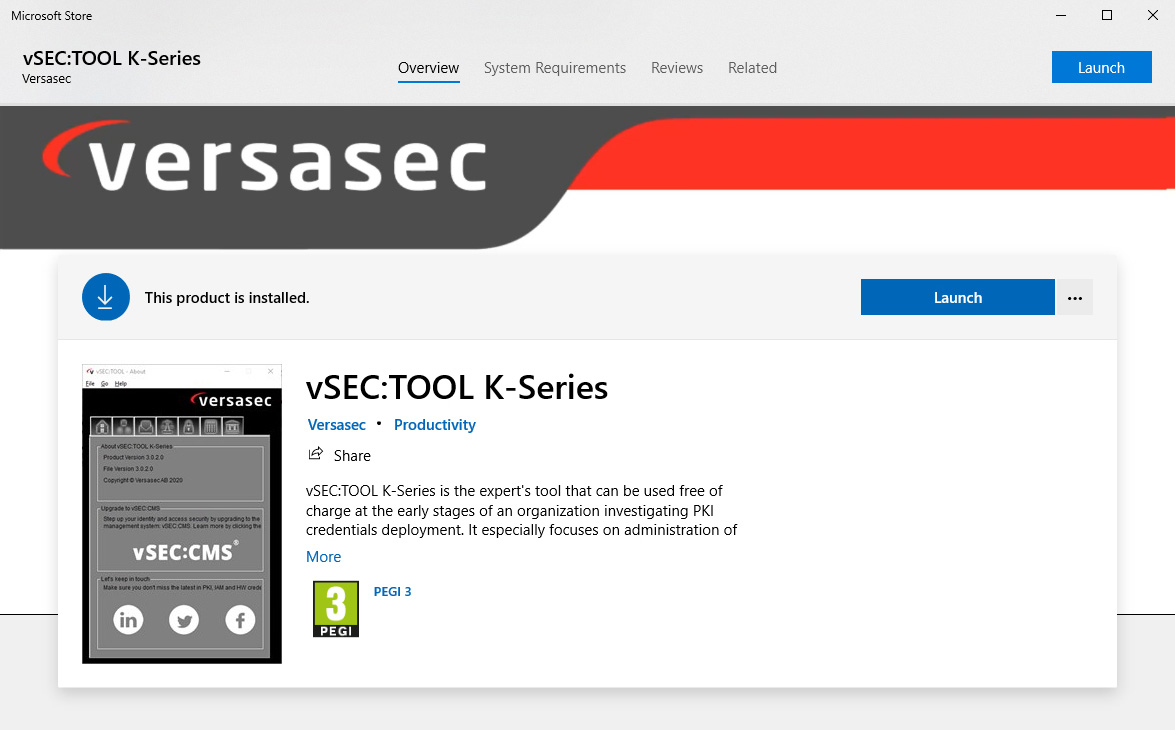 Now available in the Microsoft Store, vSEC:TOOL K-Series Helps Users Evaluate PKI credential rollout plans.
Apple started their App Store 12 years ago, and today platform specific application stores have become the standard for most platforms and applications. It started with mobile consumer apps, and now includes enterprise applications on enterprise platforms such as Microsoft Windows. Versasec is pleased to launch its first applications in the Microsoft Store – the popular and free vSEC:TOOL K-Series. The K-Series is the PKI and smart card experts' favorite tool. It provides a hassle-free option to evaluate your PKI credential rollout plan. Here is a direct link to it in the Microsoft Store:
https://www.microsoft.com/en-us/p/vsec-tool-k-series/9n29t4408bzw
PC users can also find the vSEC:TOOL K-Series directly in the Microsoft Store application or search for it using the Microsoft Store ID: 9N29T4408BZW.
Distributing software using the Microsoft Store has many advantages:
Security: All applications are scanned and signed before entering the store
Security: The sandbox provides peace of mind
Ratings: The store provides reviews and ratings
Standard: Makes it easy to find applications for the platform
Auto-update: You can set auto-update directly from the store
Secure mode: Enables use of the secure Windows 10 S-Mode
Enterprise: Enables deployment using Intune and Microsoft Store for Business
More details about the MSIX technology used for the Microsoft Store can be found here: https://www.advancedinstaller.com/msix-introduction.html
This post was first first published on Versasec Blog's website by . You can view it by clicking here