Ep.7: Vinayak Godse (DSCI) – Titus Talks Cybersecurity Podcast

   ·   
  Wednesday, August 26th, 2020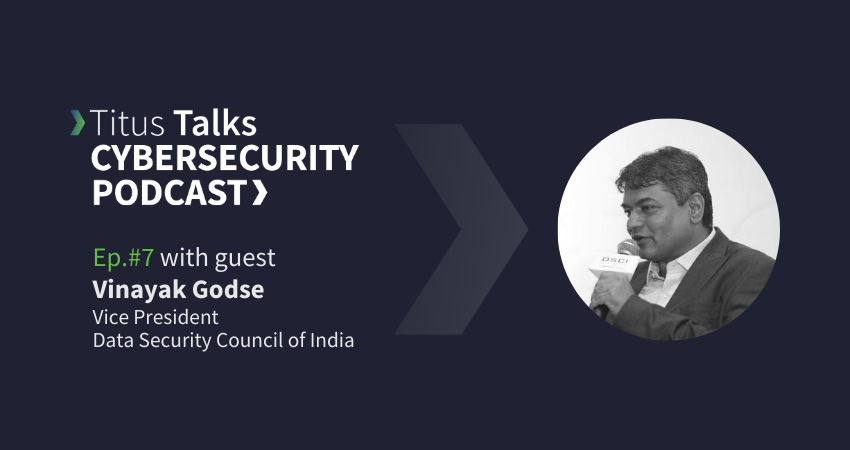 Our guest is Vinayak Godse, Vice President of Data Security Council of India (DSCI).
Jason and Maheswaran Shanmugasundaram, Titus Regional Director for South Asia, and Vinayak discuss an upcoming privacy bill in India, what's similar and unique about India's priorities and challenges surrounding data protection, and how the DSCI can help through support, advocacy, and offering of the technology to help enterprises and users protect their data.
About our guest
Vinayak Godse has over total 24 years of experience in Information Security, IT Transformation, Telecom Switching Infrastructure, Intelligent Networking and Broadband Infrastructure.
He is currently the Vice President of Data Security Council of India (DSCI). He oversees DSCI's initiatives to enhance the security and privacy culture in the country, create trust in the cyber space, advocate conducive policy environment, build critical capabilities and skills for cyber security, develop security community and foster global partnership.
Vinayak also drives the National Cybersecurity Centre of Excellence – supported by Ministry of Electronics & Information Technology (MeitY) for setting up connected, concerted & coordinated efforts to trigger and multiply cyber security technology development in the country.
Prior to joining DSCI, he was working with the Global Consulting Practice of Tata Consultancy Services (TCS) as a Consultant, Information Risk Management.
This post was first first published on Titus website by Jason Hodgert. You can view it by clicking here