Near Real-Time DLP and Malware support for IaaS
Cloud and IaaS (Infrastructure as a Service) represents the future of IT, as organizations across industries, consolidate their data centers. According to a press release from Gartner, "The worldwide public cloud services market is forecast to grow 17% in 2020 to total $266.4 billion, up from $227.8 billion in 2019, according to Gartner, Inc.1" "At this point, cloud adoption is mainstream1" said, Sid Nag, research vice president at Gartner.
Infrastructure as a service (IaaS) is forecast to grow 24% CAGR year over year to $50Bn in 2020, which is the highest growth rate across all cloud segments1. Computing workloads are moving to cloud solutions like Amazon Web Services, Microsoft Azure, and Google Cloud Platform as companies pursue benefits in scalability, cost, and even security.
Tied with this move is the fact that sensitive data being stored in cloud-native or lift-n-shift applications is being stored in the public cloud. According to IDC, "In 2025, IDC predicts that 49 percent of the world's stored data will reside in public cloud environments"2. Per the latest MVISION Cloud IaaS CARR report, companies actively assessing their data exfiltration attempts in IaaS currently see an average of 5,314 events each month. This increased 248% over last year, when companies experienced an average of 1,527. Hence, it is critical for organisations to implement policy controls for data stored in the cloud. Also, the report further shows that the documents uploaded contain sensitive information such as personally identifiable information (PII), protected health information (PHI), payment card data, or intellectual property, creating cloud compliance concerns. Hence security teams should be increasingly looking to extend their data loss prevention policies to data in the cloud to minimize their risk exposure.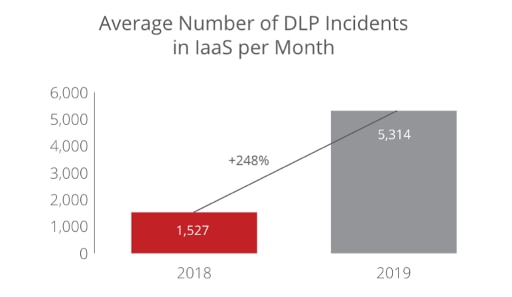 McAfee's MVISION Cloud, the market leading Cloud Access Security Broker (CASB) solution offers the leading cloud data loss prevention (DLP) solution – this enables organizations to extend their DLP policies to where their information lives today – the cloud, be it SaaS Applications or IaaS Storage locations. The DLP policies can be applied uniformly to both SaaS and IaaS services. McAfee now supports for IaaS CSPs as well such as AWS and Azure. With this, both real-time and On-Demand Scan (ODS) DLP policy capability is available for both IaaS and SaaS services. And, you can leverage the existing DLP policies for IaaS services without making any changes – as the same rule-set applies as is. Even – the Quarantine response action as configured in the policies are honoured automatically.
This provides organisations the tremendous flexibility to enforce policies to protect information from theft or loss and ensure compliance with regulations such as PCI DSS, HIPAA-HITECH, GLBA, SOX, CIPA, FISMA, and FERPA. These policies help to apply comprehensive checks based on keywords, regular expressions, file characteristics, data identifiers, etc. Customers can leverage pre-built or vertical-specific templates to get quickly started.
Apart from the capability for DLP, the MVISION Cloud platform also provides real-time and On-Demand scanning capabilities for Malware detection using McAfee's Global Threat Intelligence (GTI) database. Or, in other words, whenever a file is created, modified or restored, it can scanned in real-time for both DLP and Malware detection, and quarantined automatically.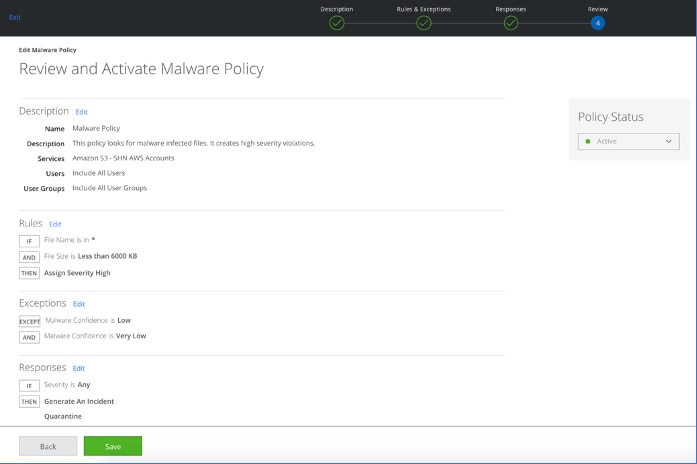 If you are an existing MVISION Cloud customer with access to IaaS DLP functionality, this should be automatically enabled for you. If you need any further help in configuring or using this capability, please reach out to your MVISION Cloud support representative.
1 Gartner Press Release: Gartner Forecasts Worldwide Public Cloud Revenue to Grow 17% in 2020, 13 November 2019
2 IDC White Paper, sponsored by Seagate, Data Age 2025: The Digitization of the World from Edge to Core, November 2018
Gartner does not endorse any vendor, product or service depicted in its research publications, and does not advise technology users to select only those vendors with the highest ratings or other designation. Gartner research publications consist of the opinions of Gartner's research organization and should not be construed as statements of fact. Gartner disclaims all warranties, expressed or implied, with respect to this research, including any warranties of merchantability or fitness for a particular purpose
The post Near Real-Time DLP and Malware support for IaaS appeared first on McAfee Blogs.