Indeed CM in KuppingerCole Executive View: innovative approach to PKI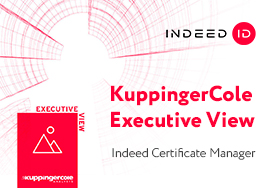 "Indeed Certificate Manager is a 'unique and unified approach' to PKI management"
– Executive
View by KuppingerCole, April 2020
We often
come across the statement that PKI is dead. Its alleged complexity and high implementation
and management costs are the most common reasons for that. Another challenge is
that outdated technology cannot keep up with modern times. But is it really
dead?
PKI is vital for large and small companies – "digital certificates remain a key part of their security and identity management infrastructures. They are widely used for such operations as data and communication encryption, digital signatures and securing access to sensitive systems." It proves that PKI is very much alive. Moreover, it is rapidly evolving. And Indeed Identity is trying to address the newest PKI trends and challenges with the help of Indeed Certificate Manager – a software platform for managing security devices and digital certificates. According to a review by KuppingerCole, a global analyst company headquartered in Europe, Indeed Certificate Manager is a software suite that can effectively "address the challenges of managing smart cards and certificates across large and complex enterprise environments." We would like to share the KuppingerCole expert opinion about the PKI evolution in general and Indeed Certificate Manager in particular.
Building on the solid expertise and wide experience, Indeed Identity has developed a reliable and sophisticated product highly appreciated by the existing customers, partners, and one of the leading European analyst agencies as well. Powered by its unique features, Indeed Certificate Manager provides "comprehensive and convenient management capabilities for both administrators and end users" and stays ahead of its competitors. In its Executive View, KuppingerCole highlights the key strengths of Indeed Certificate Manager such as:
---
"Comprehensive remote management and monitoring capabilities with the Client agent"
"Seamless integration with the AirKey Enterprise network-attached smart card platform"
"Unified, hardware-agnostic approach for managing multiple smart cards, security tokens and virtual cards with the same workflows and policies"
"Flexible, modular architecture for adding support for new devices quickly"
"Highly automated workflows and self-service functions to reduce management costs"
---
With Indeed Certificate Manager it is no longer a problem to "automate all stages of certificate lifecycle, implement a broad range of self-service operations to reduce the load on administrators, and add a number of innovative features that significantly improve the security and user experience of smart card operations for end users."
Apart
from this, the Indeed Identity development team is constantly improving the
product and adding new features upon customer requests. This is one of our
additional advantages in the market. We can easily address new tasks to be in
tune with the times. In particular, our latest updates include:
---
Support of
certificate tracking and issuing on the Windows Hello for Business smart card
Support of the
YubiKey 5 NFC authentication device
---
According to KuppingerCole, Indeed Identity has an "innovative approach towards designing its whole product portfolio as a highly modular open application platform allows the customers to pick and choose the modules as needed and grow in the future as their business needs expand." As a leading cybersecurity vendor, we develop our products in line with the recent PKI trends and state-of-the-art technologies, and we are ready to address the most challenging scenarios.
The post Indeed CM in KuppingerCole Executive View: innovative approach to PKI appeared first on Indeed-ID Blog.