Delivering the Detections: MITRE ATT&CK Evaluation Demonstrates FireEye Endpoint Security and Mandiant Managed Defense Detection Leadership
In the 2019 MITRE ATT&CK® assessment, announced on Apr.
21, 2020, FireEye
Endpoint Security and Mandiant
Managed Defense delivered the highest cumulative detections, and
the highest number of technique detections. We also provided
visibility with a rich set of raw telemetry data and provided
enrichments to our alerts with unparalleled managed detection and
response service. In this second iteration of MITRE's ATT&CK
framework evaluation of Endpoint Detection and Response (EDR)
solutions, they leveraged a sophisticated adversary emulation of APT29,
a Russian-backed adversary.
MITRE, an independent not-for-profit organization, created a
globally accessible knowledge base of adversary tactics and
techniques. The ATT&CK framework is used as a foundation for the
development of specific threat models and methodologies in the private
sector, government and broader cyber security community.
FireEye is excited to have participated in MITRE's public
evaluation, strongly believes in the value of transparent assessments,
and applauds MITRE's unbiased test
methodology. We are extremely proud to have contributed to the
knowledge base with our public blog posts and reports covering APT29:
NotSoCozy,
TweetBlog,
and HAMMERTOSS.
FireEye Has the Highest Cumulative Detections Amongst All Vendor
Participants Ensuring the Most Comprehensive Coverage of APT29
MITRE evaluated 57 ATT&CK techniques with 134 test procedures.
There are cases where a vendor can have multiple detections for the
same test procedure/step (e.g. Telemetry and Technique). Cumulative
detections are a count of how many detections a vendor had across all
five major MITRE categories (General, Technique, Tactic, MSSP and
Telemetry), making sure the results are not skewed for just one
detection type.
FireEye has the highest cumulative detections of any of the
evaluated solutions and the result is a testament to our unique innovation cycle.
Our deep understanding of threats is derived from the most robust threat
intelligence capabilities in the world combined with insights
gathered from more than 200,000 hours yearly of hands-on client-facing
attack investigation and response. This unique combination allows for
rapid innovation and development of enhanced capabilities in FireEye
Endpoint Security.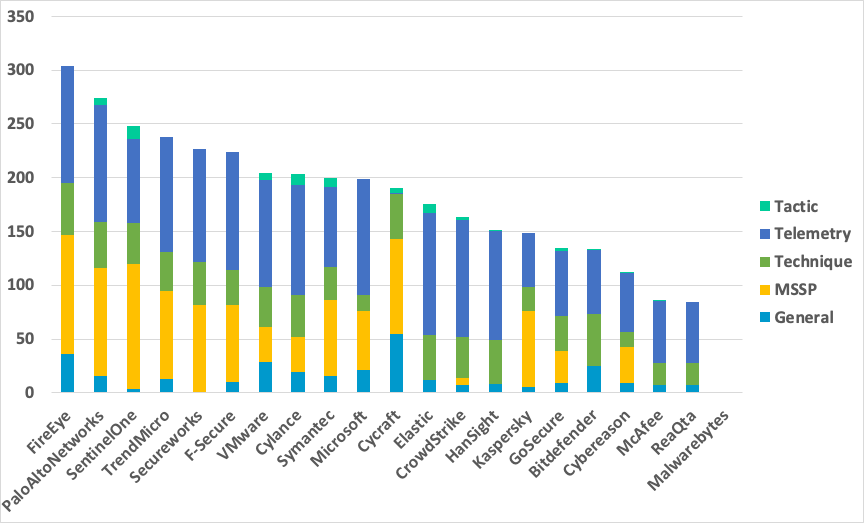 FireEye Has the Highest Number of Unique and Cumulative Technique
Detections Amongst All Vendor Participants
Technique
detections are one of the most important detection categories as
they directly map to the ATT&CK framework. These detections
provide direct information to an analyst on how an action was
performed and helps them to understand—with enriched data—exactly what
tactics, techniques and procedures were used by APT29.
FireEye identified the highest number (both unique and cumulative)
of technique detections of any solution taking part in the MITRE
ATT&CK evaluation. This is because FireEye Endpoint Security has
the capability to detect the most sophisticated attacks, providing
relevant context, impactful telemetry and the most critical alerts.
Developed by the world's best frontline responders, FireEye Endpoint
Security offers unparalleled visibility into the most impactful threats.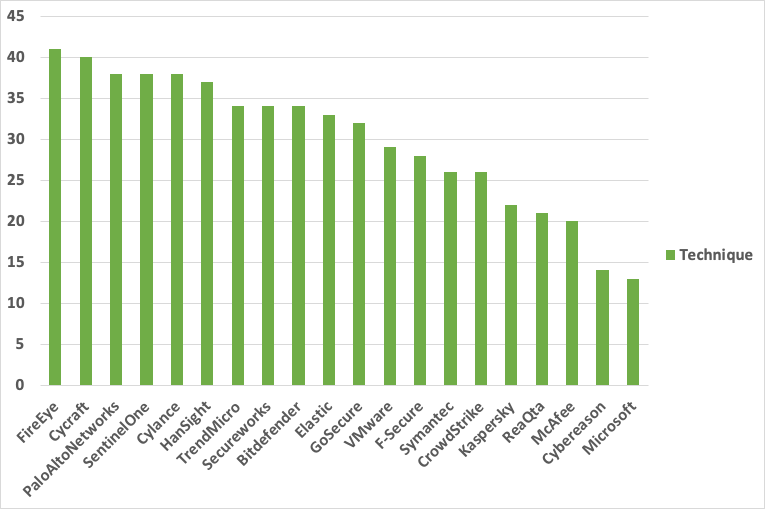 FireEye Has the Highest Number of Cumulative Product Detections and Telemetry
Telemetry
is a foundational EDR capability in the modern security operations
center (SOC). Alerting and correlation with telemetry is crucial for
an analyst responding to a threat. The alerting capability FireEye
offers, with a rich set of raw endpoint telemetry data, provides the
most relevant context and additional information that enables
effective alert triage and accelerates response. Having rich telemetry
data available for the analysts/responders in addition to detections
is fundamental to a complete endpoint solution.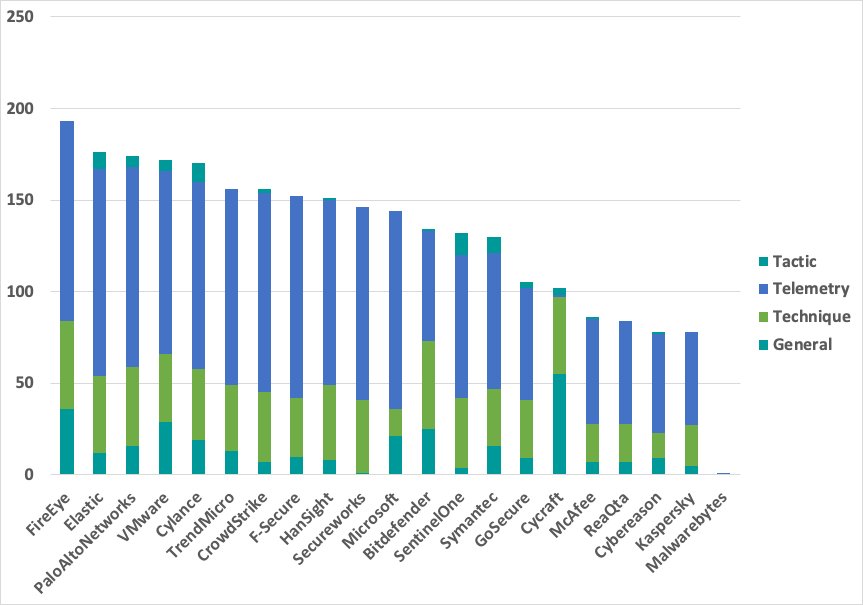 Detection Differentiators: Highlighting the Ability to Create
Custom Security Content
FireEye Endpoint Security allows customers to create and upload
their own security content, in addition to the default content in
Endpoint Security. To showcase this capability, FireEye leveraged
custom ATT&CK-specific security content, alongside production
content, during the evaluation. FireEye has released the ATT&CK
security content to our FireEye
Market. These custom rules can be used to augment detection and as
examples for customers interested in creating their own rules.
Mandiant Managed Defense: A Force Multiplier
FireEye believes that technology alone cannot solve all security
challenges and the best security posture includes technology,
intelligence and expertise. Mandiant Managed Defense allowed us to
showcase the industry's best detection and response experts, alongside
the largest global cyber threat intelligence capability, which
harnesses machine, campaign, adversary and victim intelligence gained
on the front lines of the world's most consequential cyber attacks.
FireEye successfully showcased this force multiplier during the
MITRE evaluation. Mandiant Managed Defense is a managed detection and
response (MDR) service that combines industry-recognized security
expertise, FireEye technology and unparalleled knowledge of attackers
to identify threats early and help reduce the consequences of a
breach. The Managed Defense rapid response capability delivers quick
containment of the impact of the threat and provides detailed
reporting and analysis on the investigation. The innate focus on
delivering real answers to security challenges and being an extension
of a customer's existing security operations is transformational for
any enterprise. To effectively defend against today's sophisticated
attacks, organizations need proactive, advanced threat detection and
response services.
MITRE has updated their evaluation criteria to include MSSP as one
of their main detection types. FireEye had one of the highest number
detections that were enriched with enhanced context using Mandiant
Managed Defense. This showcases FireEye's complete EDR solution,
backed by the only
leader in threat intelligence, and an MDR service backed by the
world's foremost Incident
Response consultants.
FireEye Endpoint Security: Finding the Needle in the Haystack
FireEye Endpoint Security provides the most robust endpoint security
solution combining FireEye technology, expertise and intelligence to
defend against today's cyberattacks. FireEye uses four engines in our
Endpoint Security solution to prevent, detect and respond to threats,
as well as providing extensive investigative and threat hunting capabilities:
To prevent common malware, Endpoint Security uses a
signature-based endpoint protection platform (EPP) engine.
To find threats for which a signature does not yet exist, MalwareGuard
uses machine learning seeded with knowledge from the front lines
of cyber attacks.
Exploit Guard, a behavior-based analytics
engine, stops exploits and threats from common attacks such as
phishing.
Endpoint detection and response capabilities are
enabled through a real-time events engine that uses current,
frontline intelligence to identify advanced threats.
This defense in depth strategy helps protect enterprises by both
preventing and reducing detection time of attacks. Native forensic
capabilities and the ability to rapidly search EDR data and operating
system artifacts at enterprise scale empower analysts and
investigators to efficiently search for compromise, determine the
scope of attacks and resolve incidents. With additional modules—such
as Logon Tracker (enables the investigation of lateral movement within
Windows enterprise environments), Process Guard (prevents credential
theft by preventing access to credential data or key material stored
within the Windows OS), Enrichment (adds Mandiant Threat Intelligence
information to files to help determine when a file is malicious and
aid in incident response investigations) and Process Tracker (collects
metadata on Windows, Mac and Linux endpoints and streams the data to
the Endpoint Security console)—FireEye Endpoint Security continues to
innovate and respond to the ever-evolving threat landscape.
MITRE ATT&CK Evaluation Timeline
FireEye confirmed participation in MITRE's evaluation as part of the
cohort in July 2019. The FireEye evaluation commenced on Dec.
12, 2019, and finished on Dec. 15, 2019.
FireEye is in full support of MITRE's collaborative, open product
evaluation process, how it will help inform organizations about the
action adversaries take, and most importantly, how those behaviors
affect security efficacy. FireEye's strong showing demonstrates our
deep understanding of what it takes to protect our users, and our
pedigree of having world-class expertise responding to breaches and
providing managed detection services, the best threat intelligence,
and best-in-class product capability.
Evaluation Methodology
MITRE's evaluation is a detailed capability assessment of each
solution's ability to detect and respond to techniques used by APT29.
It is important to note that the MITRE assessment does not provide any
quantitative scoring of the solutions that were evaluated and does not
rank vendors.
To offer context on how FireEye Endpoint Security and Mandiant
Managed Defense compared to the other solutions evaluated by MITRE,
FireEye used the raw JSON results data that MITRE published for all
vendors and provided a cumulative update across various categories
with no configuration changes. No scores were weighted or leveraged
any preferential qualifiers or modifications. Graphs are pure
cumulative totals of various detection categories as shown, and can be
validated by going to the full
results on the MITRE website.
Using these criteria, FireEye Endpoint Security and Mandiant Managed
Defense received a best-in-class showing in all key categories evaluated.
Additional third-party validations such as an Approved
Business Product from AV-Comparatives, and certification
from Virus Bulletin, showcases FireEye Endpoint Security's
leading position in the market, and our commitment to independent
third-party testing. Independent confirmation of Endpoint Security's
effectiveness can be shown through its capturing
top place in the NAVWAR Artificial Intelligence Challenge.
View details from MITRE on
FireEye Endpoint Security's results. View details on FireEye
performance against APT3 during MITRE's first round of testing.
Additionally, take
a self-guided tour of Endpoint Security and request a free 30-day evaluation.
Organizations can validate their own endpoint vendor against APT29
as well as the key threat actors targeting their industry using
Mandiant Security Validation (formerly the Verodin Security
Instrumentation Platform). Request
a demo today.