Poročilo McAfee in CSIS o ekonomskih posledicah kibernetskega kriminala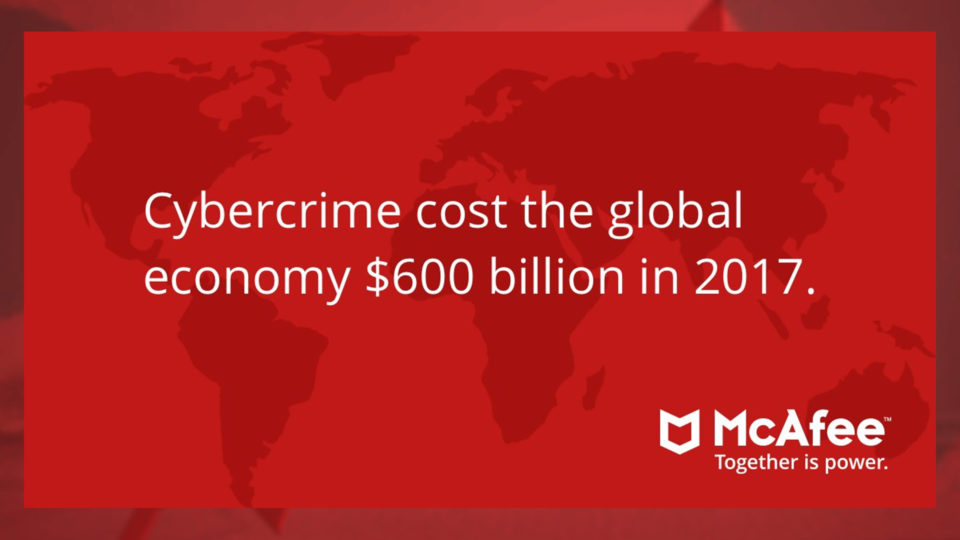 Ogromno breme kibernetskega kriminala na globalno ekonomijo – skoraj 600 milijard ameriških dolarjev!
McAfee je v sodelovanju z ustanovo 'Center for Strategic and International Studies' (CSIS), objavil pod naslovom "Economic Impact of Cybercrime – No Slowing Down" poročilo o znatnem vplivu kibernetskega kriminala na globalno svetovno ekonomijo in posamezna tržišča. Snamete si ga lahko s spodaj zapisane povezave in preberete o več kot 600 milijardah ameriških dolarjev, za kolikor kriminalni hekerji prikrajšajo predvsem komercialne organizacije po vsem svetu; to je 0.8% globalnega GDP. Leta 2014, tako pravijo študije, je bila ta številka okoli 445 milijonov.
IZPOSTAVLJENE UGOTOVITVE
Iz daljšega poročila lahko izpostavimo nekaj najpomembnejših reči.
Kraja intelektualne lastnine predstavlja 25% škode od kibernetskega kriminala, v primeru vojaške tehnologije lahko predstavlja zraven še ogromno tveganje za državno varnost.
Najhitreje rastoče kriminalno orodje je ti. ransomware – škodljiva koda z proti-odkupnino za sprostitev zaklenjenih datotek ali disko; je na več kot 2000 črnih tržiščih na svetovnem spletu in postaja vse bolj popularna tudi kot upravljana storitev.
Kibernetski kriminal kot upravljana storitev – postaja vse bolj sofisticiran, črni trgi, ki ponujajo široko paleto orodij in storitev, kar cvetijo.
Anonimna omrežja kot je Tor in kripto-valute tipa Bitcoin zagotavljajo kriminalcem veliko anonimnosti in lažje skrivanje pred avtoritetami ali varnostnimi strokovnjaki.
Večja standardizacija podatkov o informacijskih grožnjah (glej npr. STIX/TAXII) in boljša koordinacija zahtev kibernetske varnosti bi izboljšali varnost, sploh v ključnih sektorjih kot so finance.
PREDLOGI
V poročilu je tudi nekaj predlogov za boljši globalni odziv na kibernetski kriminal, med drugim:
Vse organizacije bi morale implementirati enotne, skupaj dogovorjene osnovne varnostne ukrepov, ter investirati (več) v varnostne tehnologije.
Potrebno je povečano sodelovanje v mednarodnih organih pregona in boljše sodelovanje med različnimi organizacijami tega tipa.
Boljše zbiranje informacij v nacionalnih ustanovah.
Obvezna standardizacije in izmenjava podatkov o informacijskih grožnjah, več koordinacije osnovnih in dodatnih zahtev kibernetske varnosti.
Potrebno bo nadaljevanje aktivnosti po srečanju Budapest Convention, formalni sporazum o kibernetskem kriminalu.
Mednarodni pritisk na državne nosilce odgovornosti kibernetske varnosti.
"Economic Impact of Cybercrime – No Slowing Down" : https://www.mcafee.com/us/resources/reports/restricted/economic-impact-cybercrime.pdf
Steve Grobman, CTO McAfee: "The digital world has transformed almost every aspect of our lives, including risk and crime, so that crime is more efficient, less risky, more profitable and has never been easier to execute. Consider the use of ransomware, where criminals can outsource much of their work to skilled contractors. Ransomware-as-a-service cloud providers efficiently scale attacks to target millions of systems, and attacks are automated to require minimal human involvement. Add to these factors cryptocurrencies that ease rapid monetization, while minimizing the risk of arrest, and you must sadly conclude that the $600 billion cybercrime figure reflects the extent to which our technological accomplishments have transformed the criminal economy as dramatically as they have every other portion of our economy."
James Lewis, CSIS: "Our research bore out the fact that Russia is the leader in cybercrime, reflecting the skill of its hacker community and its disdain for western law enforcement. North Korea is second in line, as the nation uses cryptocurrency theft to help fund its regime, and we're now seeing an expanding number of cybercrime centers, including not only North Korea but also Brazil, India and Vietnam."
Written/translated by: Robert Lubej, R&D Director at REAL security